Eurozone slowdown continues, according to PMI survey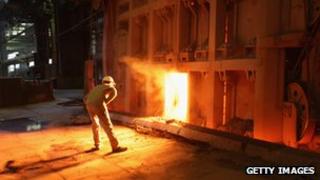 The eurozone debt crisis continues to weigh heavily on economic activity within the 17-nation bloc, according to a closely watched survey.
The Purchasing Managers' Index, compiled by Markit, was stuck at 46 in June, the same level as May, which was the lowest level for three years.
Any reading below 50 indicates contraction.
In Germany, where economic activity has saved the eurozone from recession, the reading fell from 49.3 to 48.5.
"The flash PMI for June rounded off the weakest quarter for three years, indicating eurozone GDP is likely to have fallen by 0.6%," said Markit's chief economist Chris Williamson.
"Of particular concern is the near-record deterioration in business optimism, combined with marked falls in employment and purchasing by companies," he said.
"This suggests that firms are preparing for conditions to worsen in the coming months, with the darker outlook often attributed to uncertainty caused by the region's ongoing economic and political crises."
The Markit data is based on a survey of 4,500 companies in the services and manufacturing sectors.
Mr Williamson said the latest data pointed to Germany seeing a "marginal fall" in gross domestic product in the second quarter while other nations will likely face "far steeper declines" including a drop of 0.6% in France.