Tepco ex-executives get golden parachute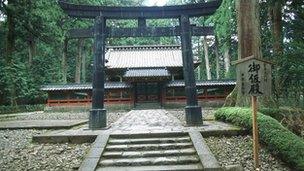 The former president of Tokyo Electric Power, Masataka Shimizu, is due to start a new role with Fuji Oil Company - but why has his move provoked criticism and controversy?
It is called a "descent from heaven". The term originates in Shinto religion, but it is more widely used when government officials or civil servants retire into related private-sector jobs.
The system has a long history in Japan, but in recent years it has become a topic of debate.
"It is a revolving door of bureaucrats who retire and get well-paid jobs in companies that they used to supervise," says Prof Jeff Kingston of Temple University, Japan.
"This system creates a conflict of interest, because it nurtures overly cosy relationships between the government and private companies.
"Many suspect that enforcement of regulations is lax because bureaucrats don't want to jeopardise their chances of getting a post-retirement deal."
The ruling Democratic Party of Japan made it an election promise to reduce the number of government employees getting preferential treatment, but it is difficult to confirm whether it has been successful.
"It is hard to track down the exact number, because people are not interested in announcing the arrangements," Prof Kingston adds. "Others also wait for a few years after retiring before taking up the job.
"The exact numbers are obscured and are probably higher than official records indicate, which are in the hundreds."
A similar practice also takes place within the private sector, where former executives of big firms get a "golden parachute", in effect being given the opportunity to receive retirement benefits more than once.
In a country where many have been forced to retire early with little or no pensions because of their firms' misfortunes the issue has become very controversial.
But never before could the public put a face to these lucky retirees - until now.
On Monday, Mr Shimizu starts his new role as an external board member at Fuji Oil Company.
Mr Shimizu became a public figure when Tepco's Fukushima nuclear power plant was damaged by an earthquake and tsunami in March last year.
What made him even more memorable than others was the time he spent in hospital during the height of the crisis.
He resigned in May last year and has since served as an adviser to Tepco.
On 8 June, he appeared in front of a parliamentary panel to testify about the handling of the Fukushima nuclear disaster. But apart from that, he has kept out of the public eye.
So, how did he score his new job?
Tepco and Fuji Oil Company's parent, AOC Holdings (AOCHD), have a close relationship. Tepco is AOCHD's biggest shareholder, with an 8.7% stake.
Mr Shimizu's new employer says the firm is keen "to use his profound experience in the energy sector", but did not comment further on his role or his salary.
No matter how much he is paid, the public is outraged that Mr Shimizu has been offered a job so soon after the accident.
"It is completely ridiculous," says Hisa Anan of Shodanren, the National Liaison Committee of Consumers' Organisation.
"He hasn't even assumed liability for the accident."
Last year, there were calls for Mr Shimizu and other Tepco executives to be charged with a criminal offence.
"It really shows that Tepco has been ruling the energy sector - this oil company is its henchman," Ms Anan adds.
There are 16 other board members and auditors who will leave Tepco at its shareholder meeting on 27 June.
According to the Ministry of Economy, Trade and Industry, eight of them have already secured jobs.
Two others, Masaru Takei and Takao Arai, will join AOCHD's affiliated companies, while former chairman Tsunehisa Katsumata will join the Japan Atomic Power Company as an external board member.
Tokyo Electric is the largest shareholder in the Japan Atomic Power Company, with a 28% stake.
"I wonder how much assets Tepco still has in share certificates," asks one commentator, zamamiyagarei, on his blog .
"Tepco seems to have no plans for selling its stakes in other companies and using the money for compensation," he adds.
The company faces billions of dollars in compensation claims from evacuees and businesses formerly based near its Fukushima power plant.
As its costs rise, Tepco is currently trying to explain to the public why it has proposed to raise household electricity prices by approximately 10%.
So far, it has been met with stiff opposition from consumers - and the golden parachutes of these executives seem to have added to their mistrust towards the utility giant.
Related Internet Links
The BBC is not responsible for the content of external sites.