Unite union amasses £25m strike fund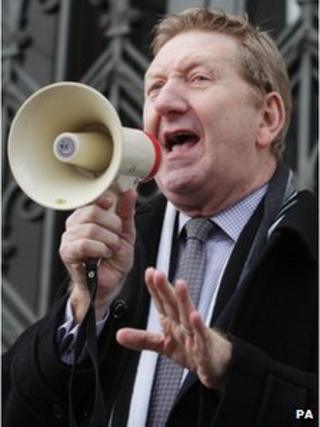 The Unite union has amassed a £25m strike fund to support workers involved in future industrial action.
Unite's general secretary, Len McCluskey, said more strikes were "inevitable" as members resist cuts in living standards.
Speaking at Unite's biennial policy conference in Brighton, he warned that the fund was a "clear sign that this union means business".
The union currently pays workers £30 a day if they are on strike.
The strike fund is separate to the union's other finances. Contributions from branches mean that it will grow by an additional £3.5m a year.
Mr McCluskey said that the fund would give workers confidence that they will be given financial support.
'Trouble ahead'
"Perhaps it's also psychologically going to make employers think twice, because many employers enter a dispute on the basis that they can starve their workers back into submission.
"I think if employers recognise that there are huge sums of money... then maybe we might get a more sensible response and therefore avoid a dispute in the first place," he told reporters after his conference speech.
But he added: "Of course I think that there is going to be trouble ahead.
"I can see disputes unfolding all over the place - [in the] private sector and public sector," he said.
Earlier in his first conference speech as general secretary, Mr McCluskey also warned against calls by some in the coalition for changes to trade union laws.
"To protect, above all, the right to take industrial action, Unite will take whatever steps are necessary to support members come what may," he promised.
Olympic protests
Unite has been at the centre of a series of high-profile disputes this year. Its members have also taken part in the strikes and demonstrations on the issue of public sector pension reform.
It is currently involved in a dispute involving London bus drivers, who staged a 24-hour strike on Friday. They are seeking a £500 bonus for working during the Olympics.
Mr McCluskey said it was a "straight forward dispute, about fairness... giving hard working bus drivers the same bonus payment that has already been awarded to every other transport worker".
"I say this to Boris Johnson and the bus companies: sort it now, or more strikes are inevitable," he said.
Earlier in the year, Mr McCluskey was heavily criticised for raising the possibility of protests during the Olympics.
In an interview before the conference, he told the BBC that he did not regret his comments about the Olympics despite the subsequent backlash.
"There was no question of stopping the Olympics or disrupting the events. It was a question of: Are the Olympics a legitimate arena for protest?"
He said he wanted a successful Olympics, and he expected protests against the government's austerity programme to continue long after the Games were over.
Early general election
He also warned Labour to be ready to fight the next general election early.
"The Labour Party need to get their act together, and be prepared for an election… anytime in 2014."
Asked what might prompt an early election, he pointed to the growing divisions in the coalition. But he warned that the eurozone crisis could also "spin out of control".
"We stumble from week to week in the eurozone. I think it is inevitable that Greece will have to exit the euro. My fear at the moment is that might happen without it being properly managed."
Unite is the biggest donor to the Labour Party. It is also one of several unions that criticised the shadow chancellor Ed Balls and the Labour leader Ed Miliband for backing the ongoing pay restraint in the public sector.
According to Mr McCluskey, the party needs to "put some flesh on the framework of an alternative" and warns that if that alternative is not radical enough, Labour will lose the next election.