Qatar seeks $5bn investment in China's capital market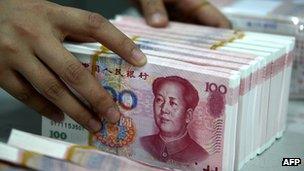 Qatar has said it is applying for a licence under China's Qualified Foreign Institutional Investor (QFII) programme to invest in its capital market.
It is seeking an investment quota of $5bn (£3.2bn), five times the current cap of $1bn, according to the Xinhua news agency.
This comes just days after China said it was looking to ease the entry rules for foreign investors.
Qatar said it will invest the funds mostly in China's equity market.
China's securities regulator, the China Securities Regulatory Commission (CSRC), said it will help complete the application process as soon as possible and also assist the Qatari authorities in applying for the investment quota.
Qatar is a major supplier of liquefied natural gas (LNG) to China. Beijing currently imports almost 5 million tons of LNG annually from the Gulf nation.
With demand for fuel rising in China, the number is expected to grow further in the coming years.
Mohammed Bin Saleh Al-Sada, Qatar's minister of energy and industry, said that Qatar was keen on investing a part of its earnings from the LNG supply back into the Chinese markets.
He said that Qatar was confident about China's long term economic growth prospects and that the country's major listed companies had good investment value.
Mr Al-Sada's comments come as the CSRC has proposed to raise the limit on the combined stake foreign investors can hold in a listed Chinese company to 30% from 20%.