Billabong shares plummet after discounted rights issue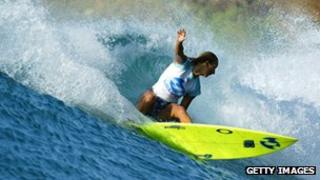 Shares of Billabong have plunged after the firm launched a plan to sell new shares at a heavily discounted price and after it cut its earning forecast.
Shares fell as much as 49% to A$0.92 on the Australian Securities Exchange.
Last week, the embattled firm launched a rights issue priced at a 44% discount to its closing price of A$1.83 on 20 June.
The firm has been trying to raise new capital in a bid to pay off its debt and has also been hit by falling sales.
The company said the discounted rights offer was a "vital step forward for Billabong".
"It not only further strengthens the balance sheet, but also assists in continuing to execute on previously announced initiatives and to execute on the transformation strategy," said Billabong in a statement.
It added that eligible shareholders took up more than 79% of the new shares made available through the discounted sale.
'Slap in the face'
However, the firm has come under severe criticism for launching the discounted share sale to raise capital, not least because of its rejection of a takeover offer earlier in the year.
In February, private equity firm TPG Capital had offered A$3.30 per share to takeover the firm.
The offer, which was 10% higher than TPG's previous bid and would have valued the company 841m Australian dollars ($843m; £541m), was rejected by Billabong.
At that time, Billabong issued a statement saying that the offer did not "reflect the fundamental value of the company".
After Monday's plunge of 49% in its share price, the company's value dropped to almost A$240m.
"You either participate or get massively diluted, a huge slap in the face again for shareholders," said Peter Esho of City Index in Sydney.
There are also concerns about the long term growth of the company amid a fall in demand for its goods in key markets.
Last week, it cuts its earnings forecast for the financial year ending 30 June by 17%.
The firm has lost almost 80% of its value over the past year.