US house prices rose in April, Case Shiller index finds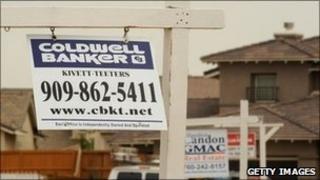 US house prices rose in almost all major cities in April, a closely-watched survey has indicated.
The Case Shiller housing index, which is compiled by Standard & Poor's, showed prices rose 0.7% in April from March, on a seasonally-adjusted basis.
Nineteen of the 20 cities tracked by the survey showed price rises, marking the third consecutive monthly gain.
The survey follows a separate report on Monday that showed new home sales hit a two-year high in May.
'Broad-based gains'
Compared with a year ago, prices were down 1.9% in the 20 cities, marking an improvement from the 2.6% annual decline seen in March.
San Francisco, Washington and Phoenix posted the biggest price increases. Detroit, which was the only city to record a drop, saw prices fall 3.6% in April.
"It has been a long time since we enjoyed such broad-based gains," David Blitzer, chairman of the index committee at Standard & Poor's, said.
"While one month does not make a trend, particularly during seasonally strong buying months, the combination of rising positive monthly index levels and improving annual returns is a good sign."
Separate data on Tuesday indicated that consumer confidence fell in June for the fourth month in a row.
The figures came from the Conference Board research group, which said its consumer confidence index fell to 62 this month, down from 64.4 in May.
A reading of 90 or above indicates a healthy economy on the index, which measures consumers' attitudes to jobs and spending in the short term.
Tuesday's economic news follows Monday's report from the US Commerce department showing sales of new single-family homes rose 7.6% in May from April and nearly 20% from a year earlier.
The improvement in housing has not been mirrored in the wider US economy however. Employers have added an average of only 73,000 jobs a month in April and May, a significant slowdown from the 226,000 average jobs added between January and March.