Unite says 82% of members can't make pay last the month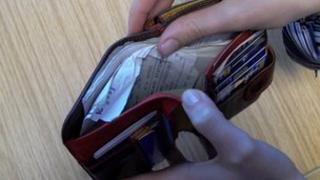 More than eight out of 10 Unite union members who responded to a survey said their monthly salary does not last until the next pay day.
Based on a survey of 350,000 of its members, Unite said 82% were unable to make their wages last the whole month.
It added that 12% of that group had subsequently needed to resort to payday loans.
The union also said that the average monthly pay of its members this year was £150 less than a year ago.
Unite's survey said of its members that could not make their wages last a whole month, a further 38% had to be helped financially by their friends and family, 29% used a second job or their savings, and 21% had an overdraft or used credit cards.
Unite general secretary, Len McCluskey said working men and women were "under horrific strain".
The union wants the government to slow down its deficit reduction programme, with Mr McCluskey adding: "The government may crow that it is paying off the deficit, but all it is doing is pushing ordinary men and women deeper and deeper into debt."
Unite's survey also found its members who needed to borrow funds were doing so predominantly to pay rent or mortgage, buy food, pay utility bills, and fill the car up with fuel.
A Treasury spokesman said: "The actions the government has taken to reduce the deficit and rebuild the economy have secured stability and positioned the UK as a relative safe haven, with interest rates near record lows, benefiting businesses and families.
"To further help with the pressure on family budgets, the government has announced that the planned increase in fuel duty in August will be deferred to next year, and the increases in the income tax personal allowance have taken over a million of the lowest earners out of income tax altogether."