UK retail sales boosted by Jubilee, CBI says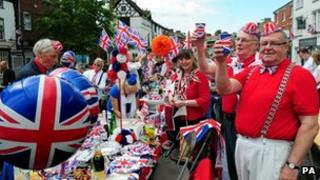 The Diamond Jubilee celebrations gave UK High Streets a "much-needed boost" in June, according to a survey of the retail sector by the CBI.
The CBI's monthly Distributive Trades Survey found 58% of retailers reported a rise in sales volumes from a year ago, while 17% said sales had fallen.
It is the survey's most optimistic response since December 2010.
Most of the firms surveyed also expect strong increases in both sales and order volumes in the year to July.
Judith McKenna, chair of the CBI Distributive Trades Panel and Asda's chief operating officer, said: "The Jubilee provided a much-needed boost to our High Streets with many families and communities making the most of the Bank Holiday and coming together to celebrate."
Grocery sales remained the most resilient. Meanwhile, sales of clothing and shoes rose for the third month in a row according to the CBI.
The employers' association and business lobby group surveys a mix of traditional retailers and internet companies.