UK economy shrank more than thought, say official figures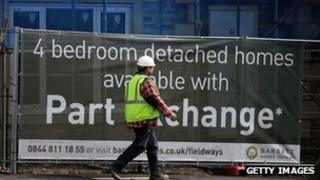 The UK economy shrank by 0.4% in the final three months of 2011, compared with previous estimates of a fall of 0.3%, official figures show.
The estimate for the first quarter of this year was unchanged, showing the economy shrank by 0.3% in that period.
The estimate for the UK's gross domestic product from the Office for National Statistics (ONS) was the third estimate of the Q1 data.
The estimates show the recession has been deeper than previously thought.
A recession is commonly defined as two consecutive quarters of economic contraction.
Construction activity fell by 4.9%, its sharpest fall since the first quarter of 2009.
The figures showed that household spending was constrained, with expenditure falling 0.1% compared with a previous estimate of 0.1% growth.
That was driven by lower spending on financial services, which was offset to some extent by an increase in spending on food and drink and leisure.
Boost
The weak picture of the economy was further underlined by figures also released on Thursday showing that government spending grew between January and March at its fastest rate in nearly seven years.
Vicky Redwood, chief UK economist at Capital Economics, said the figures boded ill for the rest of the year, particularly because of the effect of the Queen's Jubilee holiday: "Given the negative impact of June's extra bank holiday, GDP is likely to have contracted again in the second quarter."
Some economists said they expected the Bank of England to restart next week its programme of quantitative easing, designed to boost the economy by buying government debt which in turn injects money into the economy.
David Tinsley, of BNP Paribas, said although the details were not encouraging, there were some brighter elements.
He said: "I don't think it is all doom and gloom. The underlying position in final demand is a little bit stronger than the GDP figures would suggest.
"The survey figures suggest there is still some forward momentum. But overall growth will look very close to zero this year."