German unemployment rate rises to 6.8% in June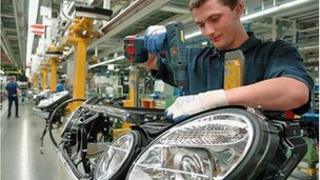 The number of people out of work in Germany rose by 7,000 in June to give a jobless rate of 6.8% of the workforce, according to official figures.
The German Employment Agency's figures recorded the third consecutive monthly increase.
However, the relatively modest rise left the percentage of the workforce without a job unchanged.
The actual number out of work in June was 2.882 million, from an upwardly revised 2.875 million in May.
The head of the agency, Frank-Juergen Weise, said the figures were a sign of a slowing jobs market: "The German labour market in June is showing signs of weaker development," noting that the unemployment rate usually drops more sharply in June because of an increase in seasonal work.
Germany's economy has been the best performer of the eurozone, growing by 3% in both of the past two years.
However, its key fellow eurozone customers have been struggling, and exports to fellow nations have been weakening.
A weaker jobs market makes it less likely domestic demand will be able to compensate for a fall in external demand.