Ex-banker jailed for taking bribes from Bernie Ecclestone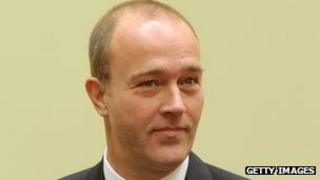 Former banker Gerhard Gribkowsky has been jailed for more than eight years for taking $44m (£28m) in bribes from Formula 1 president Bernie Ecclestone.
He was given a reduced sentence after admitting charges of corruption.
The charges relate to the sale of the motorsport business to private equity group CVC Capital Partners in 2006.
Mr Ecclestone said he had paid Gribkowsky to avoid a UK tax inquiry but denied the money had been a bribe.
CVC bought majority control of F1 from Bernie Ecclestone's family trusts and a group of investment banks.
As part of the 2006 sale, BayernLB had also sold its 48% stake in Formula 1. BayernLB's then chief risk officer, Mr Gribkowsky, had been in charge of the sale.
Giving evidence to the Munich court last week, Gribkowsky had admitted that prosecution claims that he had corruptly received $41.4m in bank commissions, and a large payment via a family trust from Mr Ecclestone, were "essentially true".
'Driving force'
Presiding judge Peter Noll said Gribkowsky had shown "high criminal energy" as he convicted him on charges of bribery, tax evasion and breach of fiduciary trust.
But, Judge Noll described Mr Ecclestone as the "driving force" behind the payments.
In his testimony, Mr Ecclestone had said that he had been worried that if he had not paid the money, Gribkowsky would have alerted the UK tax authorities to "things" that might have led to a tax inquiry.
"The only alternative was that the British tax authorities followed a case that would have been very expensive for me," he had said.
"The tax risk would have exceeded £2bn," Mr Ecclestone had added, "I paid him to keep calm and not to do silly things."
Mr Ecclestone has been subject to an investigation by German prosecutors but no charges have been filed against the 81-year-old.
He denies wrongdoing and has said he was the victim of coercion by Gribkowsky.
In reaction to Wednesday's verdict, Mr Ecclestone said: "I think Mr Gribkowsky told them what he thought he had to tell them. I don't think I should (face further action) but you don't know, do you?"
Mr Ecclestone remains F1's chief executive and retains a large shareholding in the sport.