Olympics: Tackling ambush marketing at London 2012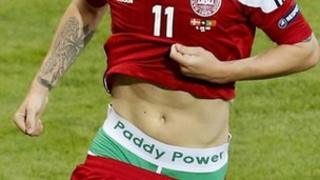 Children lining the route of the athletes parade through the Olympic Park are being advised to wear "comfortable, unbranded or Adidas shoes".
So why is such attention being paid by the organisers of the London 2012 Games to the brand of footwear being worn by participants of the opening ceremony?
Part of the answer lies in the fear of "ambush marketing" - an attempt by non-sponsors to cash in on an association with the Olympics without putting anything in themselves.
Lots of sporting events have been used by businesses to promote their brand using eye-catching gimmicks.
The authorities say they are ready for anything at the 2012 Games, but have stressed that spectators will not be ordered to change if they are wearing the "wrong brand" of T-shirt.
Yet one group representing small businesses describes the rules as "over zealous".
'Valuable asset'
Protection against ambush marketing is aimed initially at protecting the reputation of the Games themselves, but also the commercial value of the Games and the financial commitment of the official sponsors.
Locog says the London 2012 brand is its "most valuable asset".
While Locog, a private body, is concerned with brand protection, the Olympic Delivery Authority (ODA) is aiming to ensure that those businesses which are not official sponsors do not gain financially from being associated with the Games.
However, it is expecting some firms to spend more on ambush marketing than others have spent on official sponsorship.
The Olympic and Paralympic authorities expect numerous attempts of ambush marketing and have employed the services of 270 trained trading standards officers to police this area of the regulations during the Games.
The ODA, the publicly-funded body which will oversee this work, says it is ready for some unusual and imaginative marketing attempts aimed at catching the eye.
Early intervention
This will range from the use of animals to carry advertising and mass dressing-up to giveaways to children and unauthorised charity collectors operating near the Olympic sites.
The regulations allow them to police areas up to 200m around the venues, known as event zones, which include the sky above these venues.
Businesses in these areas can use a postcode checker on the London 2012 website to see where these restrictions come into force.
These areas also include any water around venues, which may be important for the sailing events at Weymouth.
Officers will be expected to disrupt any ambush marketing before it happens. This includes powers to take down temporary advertising structures, stop mass giveaways of items such as umbrellas or T-shirts, or remove counterfeit goods from sale.
One eye will also be kept on the digital world, with social media opening a new avenue for businesses to market their goods.
The Advertising Standards Authority (ASA) recently censured a Nike Twitter campaign for failing to make clear that the messages were "identifiable as marketing communications".
So will all these regulations impact on fans attending the Games?
Alice Nugent, programme manager for advertising and trading at the ODA, says that spectators need not fear that they will be targeted by officers.
"Members of the public should not worry. They are not going to be committing a crime if they own T-shirts with brands on," she says.
"We will not be targeting people who have received giveaways, but they may not be able to take these items into venues."
Sanctions
Those businesses which do flout the rules with the most serious cases of ambush marketing can find themselves subject to criminal prosecution.
Penalties can reach a maximum of £20,000 in the magistrates court, or an unlimited fine for serious cases that are heard in a Crown Court. Charges can also be brought against individual directors of these businesses.
Traders such as ice-cream or burger van owners who want to operate around the venue destinations have been required to apply for authorisation.
Considerations for the authorisation, which was free, included the legitimacy of their trade and whether they had worked in the area for some time.
More than 600 applications were made. Many of those which were unsuccessful were described as "speculative".
Meanwhile, trading standards officers, using their existing funding from local authorities, are responsible for checking that counterfeit Olympic and Paralympic items are not sold at places such as railway stations used by sports fans.
There is no extra funding for this programme from the Olympic authorities.
Yet all this policing has been criticised by some business groups.
"Locog's almost absurd over zealousness in protecting corporate sponsors from threats that frankly do not exist has further weakened small businesses' views of the Games and the opportunities it would bring," says Pierre Williams, spokesman for the Federation of Small Businesses.
Meanwhile, the British Chambers of Commerce (BCC) says that businesses involved in delivering the Games will not be able to "shout from the rooftops" about what they have done.
"Some restrictions will remain in place even after the Games, sometimes for up to 12 years," a BCC spokesman says.
"This puts a lot of companies in a pretty difficult position."