Carmakers race to cash in on passionate Goodwood crowd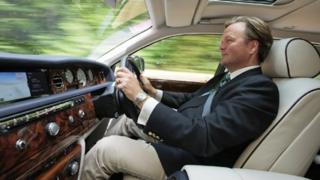 Whether it is fit for purpose is debatable, but the large Rolls-Royce Phantom copes well through tight corners as it climbs at an effortless pace up the Goodwood Hill Climb.
But this is theatre rather than racing - and it is open for all.
A number of carmakers are lending out their metal to all and sundry here at the annual Moving Motor Show on the Goodwood Estate in West Sussex, ahead of the weekend's Festival of Speed when a string of celebrities from the worlds of motoring and rock'n'roll race their prized historic supercars.
"We've got motorsport guys like Sebastian Vettel and Alain Prost coming, and musicians like Eric Clapton, Pink Floyd's Nick Mason and Jamiroquai's Jay Kay, as well as a whole lot of actors and models, designers and media types," says Goodwood Motorsport spokesman Gary Axon.
Goodwood has emerged as a central event in the calendar for petrol-heads up and down the land, and the motor industry is making hay while the sun shines.
"We've got 20 manufacturers with cars in the Moving Motor Show, as well as about 40 exhibits from both big, mainstream manufacturers to all the smaller carmakers," Mr Axon says.
"They do very well at Goodwood, as there are people here who know a lot about cars, who love cars, and who have a bit of money as well.
"Many manufacturers will secure a lot of orders this weekend."
'Vibrant place'
Some 185,000 visitors are expected over the four days, including many real aficionados who know what to look for.
Wherever you turn, there are casually dressed blokes carefully studying cars, old and new, from every angle, breathing in the petrol fumes, listening to the engines, and at times dreamily caressing the shiny car bodies.
"The level of knowledge is staggering, as is the level of passion," Mr Axon says.
For Rolls-Royce, the event is special, as its factory is based here on the Goodwood Estate, says Torsten Muller-Otvos, the luxury carmaker's chief executive.
"It's a vibrant place for motor cars," Mr Muller-Otvos says.
"Our customers are often fond of these kinds of activities, so it's a perfect place for us."
Brand building
Goodwood is slowly establishing itself as the only major UK exhibition venue for the motor industry, filling a space previously occupied by the British Motor show, which used to be held in London's Docklands, and before that at the NEC in Birmingham.
Each year, a handful of manufacturers choose to unveil cars here. This year, the premieres include Infiniti's FX Vettel, Porsche's 430hp Panamera GTS, the Vauxhall Astra VXR and the Jaguar F-Type.
Others reveal their visions of the future in the form of concept cars, such as Ford's gull-winged Evos concept, Opel's RAK-e electric two-seater, or the Riversimple Network Electric hydrogen city car.
There is brand building through peripheral events, such as Mini's bumper cars or Honda's ride-on lawn-mower race, or via off-road driving experiences offered by Audi and Land Rover.
Lotus has erected an enormous sculpture outside Goodwood House, showing off an array of its historic racing cars.
But the biggest brand that has emerged from the festival is that of Goodwood itself.
According to Aslam Farikullah, Group Lotus's chief operational officer, Goodwood has become "the most important car culture event in the world".
Owned and run by the Earl of March, the estate has become an enormous profit centre in its own right, with dozens of big and small motoring- and horse-racing events, throughout the year, bringing in ample sums from both ticket sales and sponsors.