Nike profits miss expectations amid higher costs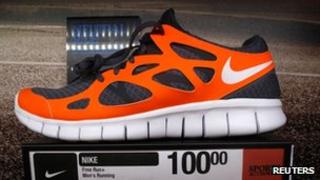 Nike has reported an 8% fall in fourth-quarter profit to $549m (£354m), as higher costs hit margins.
Nike faced increased costs for labour and materials. Its gross margin fell as marketing expenses rose surrounding Euro 2012 and the London Olympics.
The world's biggest sportswear maker was also hurt by a higher tax rate and a restructuring charge.
The company responded by putting prices up but its results still missed analysts' expectations.
It was a rare miss for the US giant, having surpassed analysts' forecasts in 17 out of the past 18 quarters.
Nike shares fell 10% in after-hours trading.
Revenues rose 12% to $6.47bn, Nike said in its results statement.