Japan Tankan survey shows business sentiment improving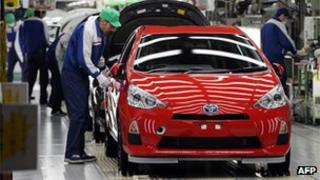 Japanese manufacturers are less pessimistic about business conditions, the Bank of Japan's (BOJ) latest Tankan survey showed.
Large manufacturers' sentiment index improved to minus one between April to June, from minus four in the previous quarter.
Big manufacturers also plan to boost their capital spending in the current financial year, the survey showed.
Analysts said the numbers may see the BOJ keep its monetary policy on hold.
"The Tankan outcome indicates the economy is on track for a recovery in line with the forecast by the Bank of Japan and this may reduce market expectations for further easing by the central bank this month," said Naoki Iizuka, a senior economist as Mizuho Securities in Tokyo.
More stability?
One of the biggest issues that has been a cause for concern among Japanese manufacturers in recent times has been the strength of the Japanese currency.
A strong currency makes Japanese goods more expensive to foreign buyers and also hurts profits of exporters when they repatriate their foreign earnings back home.
However, there has been some respite for them, because the yen has weakened more than 4% against the US dollar since the start of this year.
Analysts said the stability in the yen's price in recent months had also boosted morale among Japanese businesses.
The Japanese currency has remained little changed, trading close to 79.82 yen against the US dollar, since May this year.
"Compared to a few months ago, the yen hasn't strengthened significantly and is showing some stability, so it seems not to be having as great an impact on the economy as before," said Masamichi Adachi of JP Morgan Securities.