China's non-manufacturing sector growth picks up pace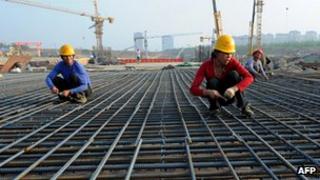 China's services sector, which includes construction, picked up pace in June, helping allay some fears of a sharp slowdown in its economy.
The non-manufacturing purchasing managers index (PMI) rose to 56.7 in June from 55.2 in May.
This comes just days after data showed that PMI for China's manufacturing sector fell to a seven-month low during June.
The services sector accounts for almost 43% of China's overall economy.
"The index shows stable and steady growth momentum of China's services sector," said Cai Jin, vice president at China Federation of Logistics and Purchasing.
"Taking the official PMI indexes under consideration, they all indicate that China's current economic growth shows signs of stabilising."
The PMI is a key indicator of activity in the sector and a reading above 50 shows expansion.
'Bottoming out'
China's economy grew at an annual rate of 8.1% during the first quarter, the slowest pace of expansion in almost three years.
There have been fears that the world's second-largest economy may see a further slowdown in growth in the near term.
One of the key reasons for those fears has been the slowing demand for China's exports, a big driver of its growth, from key markets such as the US and eurozone.
At the same time, there have been concerns that domestic demand in China was not growing fast enough to offset the decline in exports.
However, analysts said that the latest data on the services sector indicated that demand may be starting to pick up in China.
"The rebound was driven by new orders, and confirms our assessment that the Chinese economy is bottoming out," said Dariusz Kowalczyk of Credit Agricole CIB in Hong Kong.