Barclays faces task of saving reputation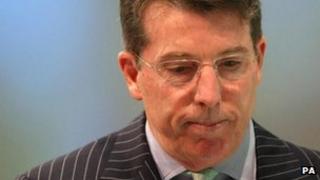 Barclays' fall from grace after it was fined £290m for trying to manipulate a key inter-bank lending rate has deepened with the resignation of its star chief executive, Bob Diamond.
It came just one day after chairman Marcus Agius announced his resignation.
The bank's top priority now is to find new leadership capable of restoring public confidence and overhauling the bank's corporate culture and governance, analysts say.
Prime Minister David Cameron has announced a full parliamentary inquiry into the banking sector after Barclays was found to have manipulated Libor as early as 2005. And Mr Diamond is to face a grilling on Wednesday by the House of Commons Treasury Committee.
Barclays will need to search "extensively" for a new chief executive "because people closest to Bob Diamond would not want to" replace him and deal with the scandal every time a new bank's involvement emerges, says Ralph Silva, director of the consultancy SRN, and who personally knows Mr Diamond.
His successor will have a "bulls-eye on his back", he adds.
Tarnished industry
Patience Wheatcroft, a former non-executive director of Barclays, says it is "imperative" to have an outsider head the bank.
"Now is the time for the bank to re-examine what sort of organisation it wants to be. It is very hard this morning not to look at the bank and think it has sustained quite a nasty hit," she says.
Having a new chairman and chief executive "should mean that there is a re-think at the top, including a re-think of the make-up of the bank, [and] how important investment banking should be in the model going forward," she adds.
Barclays' reputation hangs on how far the government is willing to investigate the scandal, according to John Huntley, a crisis management consultant.
"It amazes me how quickly companies like this can bounce back. They are so big. But unless the government inquiry really gets to the bottom [of this scandal] Barclays can't afford any more damage to its reputation."
Moreover, the entire UK banking industry's reputation is at risk. "The whole sector is tarnished because it appears now that [the financial sector troubles are] not a US problem anymore but a UK problem," Mr Huntley says.
'Divine accomplishment'
Barclays is facing its toughest challenge yet since the US subprime crisis, which left the bank relatively unscathed.
The lender was catapulted into a leading investment bank on both sides of the Atlantic after snapping up the investment banking and capital markets arms of Lehman Brothers at a cut price.
During Mr Diamond's 16 year career at the bank, Barclays' investment banking arm grew under his watch from a relatively modest entity to the UK's answer to Goldman Sachs in the US.
Barclays' confidence as a global player was further cemented when it moved into Lehman's ostentatious former building on New York's 7th Avenue.
Barclays and HSBC were the only two UK banks that avoided government bailouts during the financial crisis, which saw RBS and a number of leading US banks go cap-in-hand seeking taxpayers' money.
Mr Diamond's "divine accomplishment was to keep Barclays away from government hands", says Mr Silva.
"It was unheard of [in the industry]. Barclays didn't go in the direction of RBS as many bankers had anticipated. He bought Lehman to survive and got it to work, without having to reach into public money," said Mr Silva.
Facing parliament
Barclays Capital, the investment banking arm that Mr Diamond headed, was formed in 1986 as BZW. Mr Diamond joined the group in 1996 from Credit Suisse First Boston where he was head of global markets.
From the onset, his global ambitions were apparent.
"The board was attached to this fantasy of a UK [investment banking] champion. It was absurd, absolutely absurd," Martin Taylor, Mr Diamond's former boss who hired him, told the media in 2002.
After burning its fingers from losses related to the Russian debt crisis in 1998, BarCap tried to leapfrog its way up the global banking pecking order. It made a high-profile (but failed) bid to poach a star trader and his team from a rival bank, a move many at the time said was the first signal of BarCap's ambitions.
Mr Diamond doubled investment banking revenues and headcount, while launching its own electronic trading platform in 2004. That year BarCap raked in at least £1bn in pre-tax profit for the first time. That figure doubled two years later.
But more recently Barclays has come under fire over executive pay packages that included a bonus pool worth £2.7bn in 2011. Following the Libor scandal Mr Diamond announced he would forego his bonus.
Wednesday's parliamentary hearing will help move some of the heat off Barclays as the role of regulators will also be scrutinised, observers say.
"They are facing a sleeping policeman, but they have the strength and the quality of its employees to get over this speed bump. This is a temporary hiccup as the focus will move from one bank to the next on who was involved in the scandal. But [Mr Diamond] will be missed," says Mr Silva.