Consumers' debts rose in May, says Bank of England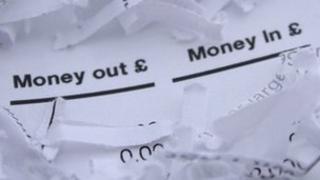 Consumers increased their debts through loans, overdrafts and credit cards relatively sharply in May, according to figures from the Bank of England.
New unsecured borrowing outstripped repayments by £732m during the month, higher than the average of the past six months of £403m.
This was driven by increased borrowing through loans and overdrafts.
Consumers have been taking a safety-first approach to borrowing during tough economic times.
Credit card borrowing increased by just £70m.
'Turmoil'
In the housing market, the Bank of England data showed that activity in the mortgage market remained subdued.
The number of mortgages approved for house purchases fell slightly in May compared with the previous month, to 51,098.
Capital Economics said: "May's decline in mortgage approvals was surely related to the fact that lenders are once again reducing the availability of mortgage credit."
"Against a backdrop of renewed recession in the UK and the escalating crisis in the eurozone, mortgage approvals are unlikely to break out of their rut anytime soon."
The Building Societies Association said that the eurozone crisis was having a major impact on potential homebuyers' confidence.
"This turmoil is not just affecting confidence, as a significant number of homebuyers also say that they are seeing it have a direct impact on the mortgage market," the BSA's report said.
This included some homebuyers suggesting it had become more difficult to find a mortgage and others claiming it has become more expensive.