Taxman targets self-assessment defaulters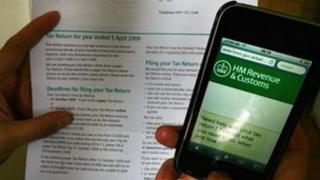 HM Revenue & Customs (HMRC) is chasing people who have failed to submit their self-assessment tax returns for 2009-10 or earlier.
HMRC does not know how many people are involved, partly because it wants people to come forward voluntarily, but have kept quiet.
Examples are people who started earning investment or rental income.
Those who pay by 2 October 2012 may avoid the normal penalty of up to 100% of the tax owed.
"By taking part in the campaign, people will receive the best terms on offer and HMRC expects that most will not have to pay this penalty," HMRC said.
However, they will still have to pay:
any tax owed
the accumulated interest on it
the fixed penalties for the late submission of self-assessment returns, and
the surcharges for the late payment of the tax owed, if they are already within the self-assessment system.
Someone who still owes money for 2009-10 should have sent in their returns and paid any tax owed by January 2011.
"Many people will be surprised that HMRC have to launch a campaign on these 'missing' self-assessment returns," said Gary Ashford of the Chartered Institute of Taxation.
However, he said the HMRC campaign was not just aimed at deliberate tax evaders.
"Some will have calculated that they are paying roughly the right amount of tax and thought they didn't need to complete a return," he said.
"Others may be happy to pay HMRC's estimated determination of their tax liability. Many will simply be lost in the system."
'Hands up'
In the past few years, HMRC has launched a flurry of campaigns aimed at particular groups of people thought to be dodging their tax.
Examples have been people with offshore bank accounts, restaurant staff, doctors, dentists, electricians, plumbers, internet traders and self-employed tutors.
In the case of this latest campaign, tax experts think some defaulters may be people who find the self-assessment system so off-putting that they have simply been putting their heads in the sand, hoping their tax bill will go away.
"If you have not completed your returns and paid your tax, you should put your hand up," said Chas Roy-Chowdhury of the ACCA tax body.
"This is as good as it is going to get."
George Bull at accountants Baker Tilly suggested the HMRC approach might not be fair.
"People who sign up for the 2009-10 (and earlier) amnesty may be treated more leniently than those who have already filed late for any of those years and were charged interest and penalties," he said.
"That's a bit like retailers offering better terms to new customers than long-standing, loyal customers."
He said the growing list of so-called "amnesties" was reflecting badly on the authorities.
"Why doesn't HMRC offer a blanket amnesty, giving anybody whose tax affairs are not in good order a once-and-for-all chance to make honest women and men of themselves, before returning to the normal, statutory regime for tax compliance?" asked Mr Bull.