Zimbabwe PM condemns move to control foreign banks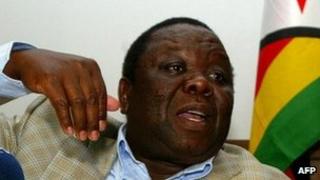 Zimbabwe Prime Minister Morgan Tsvangirai has condemned an announcement that foreign-owned banks must relinquish control.
A government minister had said banks should hand over a controlling stake to black Zimbabweans within a year.
But Mr Tsvangirai said the government had neither discussed nor approved the announcement.
The idea projected an image of a government keen to grab almost all companies and institutions, he said.
Differences over state control of companies have long-divided the coalition government between Mr Tsvangirai's party and President Robert Mugabe's Zanu-PF.
Earlier on Tuesday, it was announced that banks must adhere to a 2007 law requiring at least 51% of shares to be held by locals.
Zimbabwe's reserve bank and finance ministry has argued that such a move could damage the economy.
The latest deadline also includes hotels and telecommunications firms.
It follows a deal earlier this year with one of the world's biggest platinum producers, Impala, to transfer a 51% stake in its Zimplats subsidiary.
Mr Mugabe and Mr Tsvangirai formed a power-sharing administration six months after a chaotic presidential election in 2008.
The deal stabilised the economy, which had been in steep decline. Zimbabwe's fortunes have improved since the local currency was abandoned in favour of the dollar.
Fresh elections are expected within a year.