Toyota and Honda US sales surge as recovery continues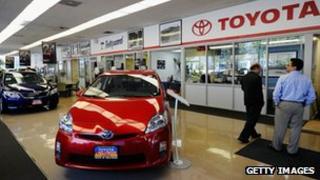 Sales of Japanese carmakers Toyota and Honda surged in the US in June as they continued to recover from last year's earthquake and tsunami.
Toyota's sales jumped 60% from a year earlier, while Honda's numbers rose 49%.
The two firms had seen their sales in the US decline last year after the natural disasters hurt production.
Their recovery was also boosted by lower fuel prices and attractive interest rates on loans.
Nissan Motors, another Japanese carmaker, also reported a 28% jump in sales during the month.
Other global carmakers also saw their sales in the US increase, with Volkswagen's numbers up by 34% and Ford Motors reporting a 15% rise.
Analysts said the robust numbers were a positive sign for the US economy and that the growth momentum in the sector was likely to continue in the near term.
"Despite a rising level of uncertainty with the economic recovery, consumers remain resilient in their willingness to purchase new vehicles," said Jeff Schuster, senior vice president of forecasting at LMC Automotive.