Eurozone retail sales edge up but trend still weak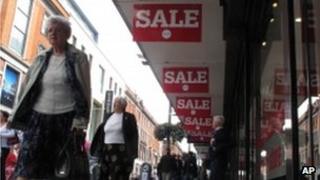 Shoppers in the eurozone loosened their purse-strings in May, but the trend remained sluggish, official statistics have shown.
Retail sales in the 17-member euro area edged up 0.6% in May compared with the previous month, when they fell by 1.4%, Eurostat figures showed.
The figures were identical for the wider 27-member European Union.
But year-on-year, sales at shops dropped by 1.7% in the eurozone and by 0.3% in the EU.
'Lasting impact'
As the eurozone's debt crisis continues, governments of individual countries have implemented belt-tightening measures that have cut into personal consumption as households defer purchases.
"Europe's debt crisis is likely to have a lasting impact on consumption," said Olivier Bizimana at Morgan Stanley in a note to clients.
"Consumers are facing falling net worth and lingering economic uncertainty. The sovereign debt crisis has dented households' financial wealth in core Europe," he said.
Unemployment in the single currency area rose to a record 11.1% in May, leaving 17.56 million people out of work, Eurostat said recently.
Companies and governments have been cutting hundreds of employees to cope with the economic downturn and save costs.
The services sector continued to shrink in June and business confidence plunged according to surveys compiled by Markit.
Meanwhile, industrial producer prices, a gauge of prices for industrial goods, fell by 0.5% in May in the eurozone from April, Eurostat said. But they were 2.3% higher compared with the same period last year.
Investors are anticipating new measures to shore up the regional economy, including an interest rate cut, when the European Central Bank meets on Thursday.