Weak eurozone services data ahead of ECB rate decision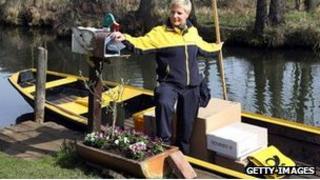 The eurozone's service sector continued to shrink in June and business confidence plunged according to surveys compiled by Markit.
The news is set to add to pressure on the European Central Bank to cut the cost of borrowing in the eurozone when it meets on Thursday.
The rate of decline eased slightly across service industries such as finance and distribution last month.
Service sector firms also shed staff for the sixth month in a row.
"Job losses are mounting as a result of falling demand, as companies seek to reduce costs and prepare for the possibility that worse is to come," said Chris Williamson, chief economist at Markit.
Workforces in Spain and Italy were worst hit but jobs also fell in France and Ireland.
Germany's service sector remained stagnant but firms bucked the eurozone trend by hiring new workers.
Markit's final eurozone output index for the service sector in June was 46.4, which was slightly better than May's reading of 46.0 but still below the 50 which denotes the line between a growing or shrinking service sector.
The retail sector continues to be one of the worst hit across the region although there was a slight rebound in May according to official retail sales figures also released on Wednesday.
Figures from Eurostat showed retail sales in the eurozone rose by 0.6% in May, following a 1.4% drop the previous month.
The European Central Bank is now widely expected to reduce its benchmark interest rate from 1% on Thursday.
Lower borrowing costs could encourage eurozone households and firms to invest and spend which in turn should boost economic growth.