Italy's budget deficit widens in first quarter of 2012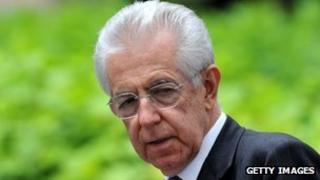 Italy's budget deficit widened in the first three months of the year, according to official government data from Istat.
The gap between government spending and tax receipts in the first quarter rose to 8% of gross domestic product (GDP) , up from 7% a year earlier.
Tax and other revenues fell 1.0% whilst public spending rose 1.3%, pushing the government further into debt.
Italy is aiming to cut the deficit to 1.7% for 2012 as a whole.
Prime Minister Mario Monti is relying on large spending cuts and tax rises such as the new housing tax to reduce the deficit.
However, Italy's economic wealth continues to shrink due to a recession which risks damaging the government's finances further.
Borrowing costs
The cost of servicing Italy's debt increased by 16% to 18.7bn euros, up from 16.2bn euros in the first quarter of 2011.
The rise in Italy's borrowing costs was only narrowly outstripped by the rise in the cost of social payments such as unemployment benefit.
The rise in the country's cost of borrowing in the first quarter was largely due to the loss of confidence amongst international investors in the Italian government's ability to repay its debt.
Italy has had to pay higher interest rates when raising funds through bond sales in order to attract investors.
On Wednesday, the yield on Italian bonds repayable in 10 years' time - the government's implied cost of borrowing - was 5.75%, while the yield on 10-year bonds issued by Germany - seen as the safest country in the eurozone - was 1.47%.