Remploy workers vote to strike against factory closures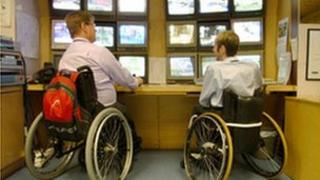 Disabled workers at UK factories have voted to go on strike against plans to close their workplaces.
Remploy - which provides work for people with disabilities - said earlier this year it was planning to close 36 of its 54 factories. At least 1,700 jobs are at risk.
Nearly 80% of members of trade union GMB employed by Remploy have voted for strike action, a statement said.
About 60% of members of another union, Unite, were also in favour.
Both have a combined membership of about 3,500 Remploy employees.
"We now have the prospect of Remploy workers taking strike action to defend their jobs," said Kevin Hepworth, Unite National Officer.
"By taking strike action, they are trying to avoid their certain destiny of being chucked on the economic scrapheap. They deserve the support of all trade unionists and the public in Britain," he added.
'Life of poverty'
Phil Davies, GMB National Secretary said: "These closures are going ahead without any consideration of the feelings and needs of these workers and their families or their future job prospects."
"To close a factory that employs disabled people in the present economic climate is a sentence to life of unemployment and poverty," he added.
The unions said they would give Remploy seven days notice with immediate effect "for a programme of strikes and other action".
Remploy factories were established 66 years ago as part of the creation of the welfare state.
Workers are employed in enterprises that vary from furniture and packaging manufacturing to recycling electrical appliances and operating CCTV systems and control rooms.
The government has said the sites could be closed by the end of the year as they were not financially viable.
'Non-viable'
"Non-viable" Remploy factories should close, with the money, part of a £320m annual budget for disability employment, re-invested into other schemes to help disabled people find work, according to the government.
It follows an independent review conducted by Liz Sayce, chief executive of Disability Rights UK, into the way in which the government spends its disability employment budget.
Her report recommended that the government funding should focus on support for individuals, rather than subsidising factory businesses.
The cash should be diverted into the Access to Work fund, which provides technology and other help to firms for the disabled, whose average spend per person is £2,900, she said.
The Department for Work and Pensions said about a fifth of that budget was currently spent on Remploy factories, but added that almost all of the factories were loss-making and last year lost £68.3m.
Remploy factories in Wales will be among those hardest hit, with proposals to close seven of its nine factories, affecting up to 272 staff.
The 36 Remploy factories due to close are: Aberdare, Aberdeen, Abertillery, Acton, Ashington, Barking, Barrow, Birkenhead, Bolton, Bridgend, Bristol, Chesterfield, Cleator Moor, Croespenmaen, Edinburgh, Gateshead, Leeds, Leicester, Manchester, Merthyr Tydfil, Motherwell, Newcastle, north London, North Staffs, Oldham, Penzance, Pontefract, Poole, Preston, Southampton, Spennymoor, Springburn, Swansea, Wigan, Worksop and Wrexham.