Airlines include debit card charges in headline price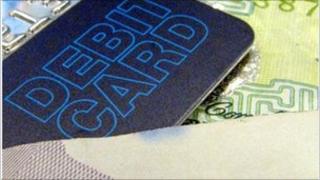 Twelve airlines, including Easyjet and Ryanair, have agreed to include debit card charges in headline prices, rather than adding an additional surcharge at the end of the online booking process.
The move follows enforcement action by the Office of Fair Trading (OFT).
The airlines have also agreed to make any charges for credit cards clear in the early stages of booking.
The government is looking at legislation to ensure companies across all sectors follow suit.
The other airlines which agreed to make the changes are Aer Lingus, BMI Baby, Eastern Airways, Flybe, German Wings, Jet2, Lufthansa, Thomas Cook, Thomson and Wizz Air.
Another airline, Monarch, which charges for credit cards but not debit cards, included the charges in headline prices last summer when the OFT first announced its investigation into the airline industry, where it said card surcharges were "particularly prevalent".
Timescale
Ryanair's £6 per flight administrative fee will be included in advertised prices by 1 August and will be included in the firm's website headline prices by 1 December.
Passengers using Ryanair's cash passport card, which had previously been immune from charges, will be given a discount.
Easyjet is further ahead in the process and was already including its £9 per booking charge in advertised prices, according to the OFT.
Eastern Airways, Easyjet, Flybe, German Wings, Lufthansa, Thomas Cook, Thomson (TUI) and Wizz Air have already made changes to their pricing structures, websites and marketing material.
Other airlines were set to change their advertising practices by 1 August, the OFT said, and complete changes to headline prices over the coming months.
'Transparent'
The OFT said airlines could still impose surcharges for credit cards, "which can be a more costly process".
"However, it is critical that these charges are transparent and not sprung on shoppers towards in the end of the booking process," it said.
The head of the OFT, Clive Maxwell, said: "This is a great outcome for the millions of people who buy flights online.
"It is important that the cost presented when they search for a flight is realistic and that they are not surprised by extra charges."
The OFT has estimated the cost to consumers of card surcharges on air fares is £300m a year.
Following a super-complaint about the issue by the consumer group Which?, the OFT secured some voluntary changes in prices by some airlines.
"It is good news that debit card surcharges will be displayed in the headline price of flights - as long as the airlines do not use this as an excuse to push up their prices," said Which? chief executive Peter Vicary-Smith.
"It is also important that credit card charges are clearly displayed throughout the booking process and the OFT should make sure that all companies are taking these steps, not just airlines."
The latest enforcement action came after an investigation into airlines which had not made voluntary changes.
The government has announced it will introduce legislation banning excessive debit and credit card charges across the economy.
This could cover purchases such as cinema tickets and charges imposed by booking agencies and even councils.