Is the housing market grinding to a halt?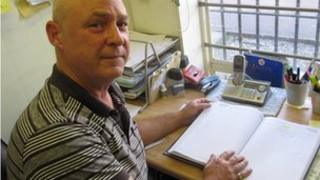 As Steven Finnis leafs through the business diary of Wallington Removals in Mitcham, South London, the stagnation of the property market becomes clear.
Some weeks this year he has not made a single visit to give a quote to a prospective customer.
Just six years ago the family run firm, set up by Steven's grandfather in 1966, was so busy it was turning away business.
Now, things are so quiet the business is just ticking over and covering its costs.
"We are nowhere as busy as we were a few years ago. It is the first-time buyers. There are none of them around any more because they can't get the money from the banks," says Steven.
"I meet other local removal firms once a month and we all agree that is the problem: the banks aren't lending to the first-time buyers so the bottom of the chain can't get going - that is what is holding everybody up."
'Very subdued'
Across the UK, house sales are running at just below 70,000 a month.
That is almost half the rate recorded in 2006, when there were 139,000 sales per month.
The market shows no real sign of revival, despite a brief flurry of activity earlier this year, as a few first-time buyers moved to beat the reintroduction of the 1% stamp-duty band.
"We are going to see a very subdued market for the rest of this year," says Martin Ellis, housing market economist at the Halifax bank.
According to the Halifax, house prices have changed little in the past year and the average UK home is still selling for, on average, just above £162,000.
The reasons for the market's stagnation are obvious.
There is a recession on, unemployment is high and lenders, especially banks, are still short of money.
They are afraid of offering mortgages to anyone who does not have a squeaky clean credit record and a large deposit to put down.
The Bank of England warned recently that this mortgage rationing was going to become even more serious this year.
"Whether you are a business or a household, if you have a fantastic credit rating or have a lot of equity behind you, it is still possible to borrow from the banks," says Ed Stansfield, housing market economist at Capital Economics.
"If you are struggling, on a low income, don't have an established credit record or a massive down payment, there is not much chance of you getting money," he adds.
Few new houses
So far so gloomy, for anyone hoping to buy their first home, or move to a more expensive one but with very little equity in their current homes.
It all begs the question of why house prices have not fallen further instead of just stagnating.
Robert Gardner, chief economist at the Nationwide building society, reminds us that a lack of new housing has been propping up prices.
"We haven't had much construction activity for the last 10 years or so, it has consistently failed to keep up with the pace of household formation, so we don't see a glut of homes emerging on the market," Mr Gardner says.
"Demand is weak but supply is weak as well, so prices have been fairly flat for some time and that is what we expect to continue."
A different story
The stagnation of average UK house prices disguises the fact that they have been falling sharply in some parts of the UK, particularly in the North of England and the Midlands.
It is a different story in London.
The capital can give the impression of being a gated community, with prices at record levels due to the influx of foreign money seeking a safe home away from the troubled eurozone economies of Greece, Spain and Italy.
But even in London there is a lot of variability, according to Simon Rubinsohn of the Royal Institution of Chartered Surveyors (Rics).
"For the last 12 months places like Kensington and Chelsea and Westminster have seen double-digit increases, while in parts of East London, such as Redbridge and other boroughs out that way, prices have fallen," he says.
"So there might be a 15% gap in terms of the change in the last 12 months between the weaker and stronger parts of London," Mr Rubinsohn points out.
Low interest rates
The government has launched two initiatives this year to try to get things moving.
The Funding for Lending scheme, currently being developed by the Bank of England, may generate more mortgage lending.
And the government's NewBuy scheme, aimed at promoting the sale of newly built homes in England, may also generate a few more sales.
So far 600 newly built homes have been reserved for sale under the scheme.
Taking this into account, Ray Boulger of mortgage brokers John Charcol thinks total mortgage lending may in fact rise this year.
And he argues that the current housing depression is not bad for everyone.
"The big plus point is that interest rates look like staying low for even longer, so that is going to mean that, for people who can get a mortgage, they are going to remain very affordable," he says.
'Prices marked down'
One curious feature of the market has been the utter unwillingness of many would-be sellers to sell their homes for a realistic price.
Asking prices are still running about 35% above average selling prices, says property commentator Henry Pryor.
But he now sees signs of change.
"We are already seeing significant changes to values in asking prices, where there are large swathes of properties that are currently for sale that have been marked down," he says.
Back in Mitcham, Steven Finnis shows me his firm's figures for the past few years and they make alarming reading.
In 2009 he or his staff made 327 visits to give estimates to prospective customers.
Last year that had fallen by nearly 30% to 234, and with just 102 potential customers so far this year, things are looking even worse.
"We should be booming now, July and August are normally our busiest time," he points out.
"Everyone I know is in the same boat, struggling to make a living."