RBS dealing with IT failure cases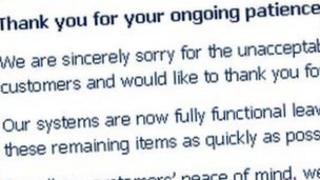 The number of customer issues that have required further attention from RBS following the banking group's computer failure has grown.
A week ago, the bank said that 15,000 cases could not be resolved immediately, but this has increased to 21,000.
However, 90% of those have been dealt with, RBS said.
Meanwhile, customers with RBS International have also seen their service returning to normal.
The international arm, which serves Jersey, Gibraltar, Guernsey and the Isle of Man, was affected along with the rest of the group by the IT breakdown.
"We are sincerely sorry for the unacceptable level of inconvenience our technical issues have caused our customers and would like to thank you for your patience and understanding," said RBS International chief executive Adrian Gill, in a message on its website.
"Our systems are now fully functional, leaving just a few final updates to be completed. We are giving priority to fixing these remaining items as quickly as possible."
Processing backlog
The problems at RBS began more than two weeks ago, when a software change went wrong, causing a failure in the automated system that processes payments overnight.
As a result, many people were unable to access their wages or pay vital bills, such as their rent.
The backlog in updating accounts has more or less been cleared for customers of RBS and NatWest. Yet the backlog at Ulster Bank might not clear until mid-July.
The bank has set up a help page for ongoing problems.
On Thursday, Ulster Bank confirmed its chief executive Jim Brown will not take his annual bonus this year as a result of the IT failure.
'Unprecedented'
The Financial Ombudsman Service chief executive Natalie Ceeney said the service had taken "all kinds of worried and frustrated phone calls" about computer failures at banks.
"The reassuring news for consumers is that when similar - but smaller-scale - things have happened in the past, the financial institutions concerned have stepped up and dealt with problems and concerns early on, right at the frontline," she said.
"Only very few cases then needed to be escalated to the ombudsman, for us to deal with further down the line.
"It is true that the recent situation involving people's day-to-day banking seems to have been unprecedented in scale. It affected more people immediately - and it could send ripples that might still be felt in some surprising places."
She urged those affected to keep a record of how they had been affected, to make it easier for the bank to resolve.