Italy approves deep cuts in national spending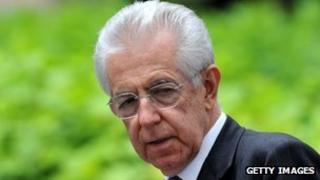 Italy's government has agreed to cut spending by 26bn euros (£21bn, $32bn) over the next three years to plug the gap between spending and income.
The cuts, approved after seven hours of talks, include a 10% reduction in the number of civil servants and cuts to healthcare.
The cuts come as Italy struggles to keep the faith of investors.
They are increasingly asking for higher rates of return for lending to the country.
The country's budget deficit is 3.9% of gross domestic product (GDP). Italy's Prime Minister Mario Monti has a target of cutting that to 1.7% this year.
The cuts will also halve the number of provincial governments across Italy to about 50.
They aim to trim 4.5bn euros this year, with a further 10.5bn euros in 2013 and 11bn euros in 2014.
Unpopular
Trades unions have already threatened to strike against the cuts, which are to be carried out through hiring freezes rather than sackings.
Italy's public sector payroll is suspected of showing a higher number of employees than are actually carrying out work for the state.
Staffing levels will be assessed by October. Some workers will be sent home for two years on 80% of their salary before losing their jobs or being retired.
The package means the country will not now need to bring in an unpopular increase of 2% in value added tax (VAT) and will be able to funnel 2bn euros to the Emilia Romagna region, which was hit by two earthquakes in May.
The Italian economy is in its fourth recession of the past 10 years. Earlier this week, Italy's employers' group, Confindustria, forecast it would shrink by 2.4% this year.
The Italian parliament will have to approve the cabinet's plan formally within 60 days or else it will expire.
The cost of servicing Italy's debt increased by 16% to 18.7bn euros, up from 16.2bn euros in the first quarter of 2011.
The yield on Italian bonds repayable in 10 years' time - the government's implied cost of borrowing - was 5.94% on Friday, while the yield on 10-year bonds issued by Germany - seen as the safest country in the eurozone - was 1.37%.