Is language the key to hooking India on the web?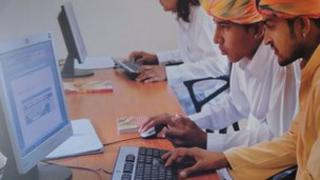 Tamil, Hindi and Urdu… some of the many languages Indians are using to get online.
As more and more people get on the internet to shop, check email or simply access online content, they want to do it in their own language.
With over 30 major languages and 1500 dialects, India is a unique market.
That's why analysts say companies need to look beyond English to create content and build new technology to tap into this large emerging audience.
It already has the third largest internet user base in the world after China and the US.
Lack of content
There are now 120 million internet users in the country and this number could rise to over 300 million by 2014.
The next phase of growth is expected to come from users who will be more comfortable with local languages.
But the problem so far has been that there is very little content.
That's why companies like Yahoo India are now offering email in eight Indian regional languages.
According to Yahoo India, local language users are growing at a rate of nearly 40% per year.
To boost usage rates the company has linked up with Indian newspapers such as the Tamil daily Dinamalar, for a co-branded site in the Tamil language, and the Marathi daily Lokmat for a Marathi website.
"We have partnered with best of breed language partners - utilising their skills because they are the experts in the business," says Nitin Mathur of Yahoo India. "They have the local knowledge, reporters and editors who understand the nuances in the language."
While content is one problem, technology is the other.
'Dynamic keypad'
The scripts for Indian languages are more complicated than those written in the Roman alphabet.
Noida-based start-up Luna Ergonomics is developing a product called the Panini Keypad to address this issue. People can send text messages and operate their phone in any one of 26 Indian languages, by using an application downloaded on to their mobile.
Of the 120 million internet users in India, around 20 million are mobile-only internet users. That's why technology for mobile phones is crucial in bringing more local language users online.
The company says it's built to be compatible with any language. They are working on adapting the software for Chinese, Japanese and Korean.
Chief Executive Abhijit Bhattacharjee says the application is ready for other uses.
"Because it's a dynamic keypad with no printed characters on the keypad, its not restricted to any form - you can use it on the phone, the ATM machine or the remote of your IPTV. There is no barrier to where it could be applied."
Huge potential
Other companies too are shifting their focus to what many are calling the new 'Indic web'.
Windows 2000 used to support two Indian languages - Hindi and Tamil. Now Microsoft supports twelve Indian languages including Assamese, Bengali, Gujarati and Konkani.
The Wikimedia Foundation too is hoping to develop Wikipedia in 25 major Indian languages.
The Adobe InDesign CS6 software supports 10 Indian languages. That will make it easier for publishers to work in multiple regional languages without having to install additional plug-ins.
Umang Bedi of Adobe Systems says this could significantly impact India's regional print publishing industry. Hindi and other vernacular languages now contribute to nearly 60% of Indian print media industry.
Whether it's through mobile phones or computers, more people want to get online. Less than 8% of the country's 1.2 billion population currently access the internet.
So the potential is huge and experts say going regional can help companies revolutionise the internet market in the country.
Technology commentator Prasanto K Roy says if in the next couple of years companies are able to provide a lot of local content or more government services convert to regional languages, the internet could boom like television.
"Television in India is not predominantly English medium but is in local languages," he says. "I think that's the key - to look at the TV model, newspapers and magazines and try to see why we aren't able to replicate it on the internet."
So does this mean it's the end of the English web in India? No, says Nitin Mathur of Yahoo India.
"The English language will continue to grow. But if you want to take your product beyond the top 8 cities, language will pay a fairly critical role."
The new wave of users is mainly from rural areas. To tap into this fast growing market increasingly companies are shifting their strategy and some experts say they can't afford to ignore the Indic web any longer.