Japan FSA imposes improvement plans on Olympus auditors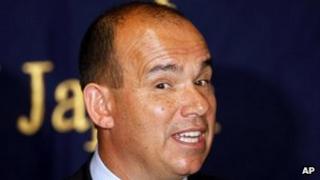 Japan's financial regulator says cameramaker Olympus's former auditors, KPMG Azsa and Ernst & Young ShinNihon, must submit plans detailing how they will improve their oversight.
Japan's Financial Service Agency (FSA) cleared both firms of "intentional acts or grave negligence" at Olympus.
But it ordered them to submit plans to improve supervision and undergo six-monthly checks.
In 2011, Olympus admitted it concealed $1.7bn in losses over two decades.
Japan's FSA said both firms "lacked operational management systems to ensure proper auditing" needed to identify "dubious" transactions.
Both must submit their plans to the FSA by 6 August.
Addressing "insufficiencies"
KPMG Azsa, the auditor's Japanese unit, would not comment on the FSA's demands, but said that it took the points raised by the FSA "with the utmost seriousness" and that it was reviewing them "in detail".
Ernst & Young ShinNihon told the BBC that it had received instruction on improvements the FSA wanted it to make "in respect of insufficiencies in our system for audit engagement acceptance procedures".
It added that it would extend the work of its audit inspection panel, established last December in response to the uncovered fraud, to work on the FSA's demands.
Ernst & Young ShinNihon, the auditor's Japanese arm, took over auditing Olympus' accounts from KMPG Azsa in 2009.
Lacking criticism
The regulator said that KPMG Azsa failed to communicate properly with the succeeding auditor when the switch took place, and cricitised both for failing to discuss in detail huge losses from three company acquisitions Olympus had made.
The regulator added that the pair also failed to query a $2bn advisory fee paid by Olympus for the acquisition of a British medical equipment company.
Despite this, the FSA found no specific problems with either firm's audits of Olympus and did not impose any fines.
The losses arose from companies it had aquired outside its usual business activities, supposedly to help bolster its otherwise flagging financial performance.
Reuters news agency reported that an FSA official said he was not sure that the fraud could have been identified and prevented "even if the two auditing firms had proper operational management systems in place".