Markets look poised for bumpy summer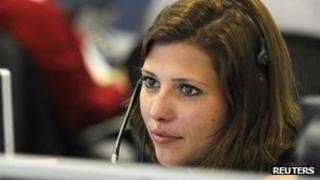 So, is this summer going to be as bad as last year's for the stock markets?
That would be unfortunate to say the least because if, say the UK market reproduces its behaviour of last July and August, by the time we come back from the beach in September the FTSE will have lost about 1,000 points.
There are reasons to think things could get steadily worse.
Jobs are being created at a snail-like pace in the US, and in China the decision to cut interest rates suggests the economy there could be in a worse state than had been feared.
Meanwhile on Friday, German bonds and US Treasuries rose sharply and the euro tumbled to the lowest level against the dollar since the beginning of June.
The oil price fell 3.2% in New York - and this was at the end of a week when Iran had been testing missiles and threatening tanker supplies in the Persian Gulf, which should normally have jerked prices upwards.
Even gold, which should offer protection in the direst of circumstances, remains 20% below its peaks of last year.
Spanish concerns
The decision by the European Central Bank to cut interest rates to record lows received the worst sort of reception - indifference.
The markets simply shrugged their shoulders and moved lower - rates are so close to rock bottom it makes little difference to anyone. Banks barely lend to each other, let alone to companies or consumers, so a quarter of one percentage point will not change much.
We could have reached the point where markets see most actions by governments to help their economies as merely confirmation of the severity of the crisis.
But as has been the case so often during the past three months, all eyes are turning back to Spain, where yields of 10-year bonds are tip-toeing back above 7% - the point at which financing becomes unsustainable over any reasonable length of time.
A huge amount of Spain's problems lie in its banks.
The European summit at the end of last month did seem to point towards using bailout funds to recapitalise the banks of the eurozone and bring them safely under the rule of a single regulator.
But Edmund Shing, head of European equity strategy at Barclays Capital in London, says a great deal of the detail has not been worked out, let alone agreed.
He says: "We still don't know how much of the Spanish banking system is to be provided for, and how much risk is to be left with the government and with the bondholders.
"We don't know either what this road map to a banking union will look like and if it will extend on to a fully fledged fiscal union. And then there is a great deal more to be done amongst the periphery nations in the way of reform."
Rising yen
In fact, the two long-term refinancing operations by the European Central Bank in hindsight look increasingly like temporary sticking-plaster solutions.
By offering cheap money to the banks with which to buy up high yielding Spanish government bonds, the Bank was helping the banks recapitalise and support the Spanish state finances.
But in April and May, domestic banks were actually reducing their exposure to national debt, reminding markets of how a similar refusal to buy sovereign debt pushed Portugal into begging for a bailout from the EU.
So for investors, the list of safe havens is a short one. The yen has been attracting attention in recent days, but at around 98 yen to the euro, it is now at levels where the Bank of Japan could well intervene.
International Monetary Fund managing director Christine Lagarde, while gloomily forecasting a downward revision of its estimates on global growth, pointed out that further problems in the euro area would "have an unwelcome currency effect on the yen", with safe-haven flows making it "further overvalued".
What about the Swiss franc? The euro is just above the 1.20 Swiss franc level at which the Swiss National Bank has promised to cap the currency.
However, Mr Shing believes the UK and Germany do provide some refuge for investors.
"Areas such as engineering, industrial stocks and banks are obviously to be avoided," he said.
"But even in a worst case scenario there are some classic non-cyclical sectors that are attractive, such as telecoms, health and some utility stocks.
"Electricity companies are too linked to economic growth, but water has a good dividend and steady earnings."
The same could be said of the US market - but with so many markets, emerging and developed, looking so uncertain, choices are very limited.