Boeing in $7.2bn plane order from Air Lease Corporation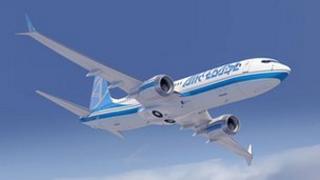 Boeing has announced a $7.2bn (£4.6bn) order for 75 planes from Air Lease Corporation at the Farnborough Airshow.
Sixty of them are 737 Max 8 planes, while 15 are 737 Max 9 planes, which are specifically designed to be more fuel efficient than those they replace.
Boeing said it had now received orders for 1,000 737 Max planes, which are due to fly for the first time in 2016.
Last week, the firm forecast that sales by global planemakers would hit $4.5tn over the next 20 years.
This equates to 34,000 planes, the company said.
The Air Lease order is Boeing's first order for the 737 Max by a leasing company.
"They are an ideal partner to help establish the 737 Max in the leasing market," said Boeing Commercial Airplanes boss Ray Conner.