Norway government ends oil and gas strike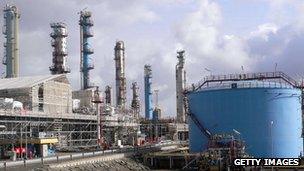 Norway's government has used emergency powers to step in and force offshore oil and gas workers back to work, ending a 16-day strike.
Production was due to be shut down from Tuesday with companies set to lock out workers in a dispute over pensions.
"I had to make this decision to protect Norway's vital interests," Labour Minister Hanne Bjurstroem told Reuters.
She was speaking after a last-ditch effort was made to end the row between energy companies and trade unions.
The intervention means that the National Wages Board will facilitate "forced abritration" to end the row over retirement rights. It is unclear how long this process will take.
It means there will be no lockout of the 6,500 offshore energy workers and they will carry on working as normal.
"It wasn't an easy choice, but I had to do it," the labour minister said.
Leif Sande, the leader of the largest trade union Industri Energi, said workers would return to work immediately.
"It's very sad. The strike is over," he told journalists.
Norway's three main unions have been on strike for 16 days. The dispute is over offshore workers' demand for the right to retire early, at 62, with a full pension.
The row centres on the elimination of a pension add-on introduced in 1998 for workers who retire at 62, three years ahead of the general age for oil workers and five years ahead of Norway's official retirement age.
The government possesses emergency powers giving it the right to force an end to a strike if it believes that safety is being compromised or national interests are being harmed.
Oil prices had risen on Monday, before the government's intervention, as it looked like a shutdown was nearing.
In London, Brent crude jumped more than $2 to above $100 a barrel, before dropping back slightly.
Norway, the world's fifth largest oil exporter, has already seen its oil production cut by 13% and its gas output by 4% since the strikes began on 24 June.
OLF, the Norwegian Oil Industry Association, estimates this has cost Norway 2.9bn kroner (£300m) in lost production.
Related Internet Links
The BBC is not responsible for the content of external sites.