Farnborough gears up for aircraft order bonanza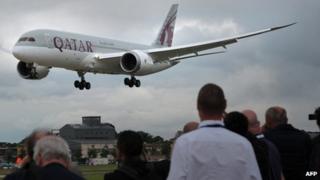 Thousands of industry executives from the worlds of aerospace and defence are gathered at the Farnborough airshow this week.
In the muggy heat, they watch aeroplane acrobatics from corporate chalets alongside the airfield, enjoy lunch in the adjacent Aviator hotel, or hold high-level meetings in backstage conference rooms, all the while hammering out deals that are announced in crowded press conferences to journalists from around the world.
Many here take it for granted that there will be yet another order bonanza, with the announcement of hundreds of new aircraft sales expected by the end of the week.
After all, some 15-20% of each year's total commercial aircraft orders are typically announced in just a single week at the world's largest alternating air shows, Farnborough and Le Bourget, according to aviation consultancy Ascend.
Leasing deals
US leasing company Air Lease set the tone for this year's show with an order for 75 Boeing 737 Max aircraft, worth $7.2bn (£4.6bn) according to the list price.
"Many new orders at Farnborough will come from operating leasing companies, which are able to arrange finance and take delivery, rather than directly from cash-strapped airlines," predicts Rob Morris, senior aviation analyst with Ascend.
That marks a change from recent years when Middle Eastern airlines such as Etihad and Qatar have been the main engines for order growth.
This year, they are holding back.
"Aeroplanes are not toys," say Akbar Al Baker, chief executive of Qatar Airways. "You cannot come to every airshow to buy more toys.
"We have to be very prudent, we need to do enough analysis, enough evaluation, enough negotiations for us to reach something that we want, and then announce it at an airshow."
Fewer orders from the Middle East have coincided with a tough environment for European airlines, which have seen demand for flights fall during a period of widespread economic turmoil.
Some airlines elsewhere in the world have also run into difficulty, so there are fears some might collapse in the months or years ahead.
Hence, although the long-term outlook for aviation is bright, there are reasons to be more cautious about the present, according to sceptics.
"I think the show will be a little more subdued relative to 2011," says GE Aviation's chief executive David Joyce.
Diverging markets
But if many airlines - as opposed to leasing companies - are cash-strapped, the situation is even more dire in the world's $1.6tn global defence market, amidst widespread economic austerity in Europe and the US resulting in cuts in defence spending.
"This last year, we have seen a divergence between aerospace and defence," observes Tom Captain, head of global and US aerospace and defence at consultancy firm Deloitte.
"We're seeing take-off in commercial aviation, up some 10% on last year, coupled with a 3.3% fall in defence orders," he says.
This might not seem like a lot, he acknowledges, but given the sheer size of the defence sector, even single-digit percentage falls amount to hundreds of billions of dollars.
Defence freeze
Defence cuts have been particularly pronounced in the UK, France and Germany, Mr Captain says.
This, coupled with a European preoccupation with industrial policy that links defence spending with job creation, has the effect of weakening Europe's military capabilities, at least relative to the US, he reasons.
"At what point do governments decide between jobs and weapons capability?" he asks.
In the US, where defence spending almost doubled in the past decade, the budgets have peaked though as yet it is not clear how much they will be cut by.
Uncertainty about the size of the cuts in defence spending is already having an impact.
Defence officials here talk of paralysis, amid fears that the cuts could be twice as hard as previously announced.
"We've been preparing ourselves for a worst-case scenario - a full $1tn cut in the US defence budget," says Dennis Mullenburg, chief executive of Boeing Defense.
Dave Hess, president of engine maker Pratt & Whitney shares his concerns.
"We're already seeing it today," he says.
"No one wants to hire. No one feels there's enough certainty to make significant capital investments. We're all kind of waiting on the sidelines to see what happens."