Tucker: Victim of his own innocence?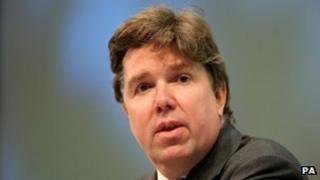 There was a bit of the "de haut en bas" in Paul Tucker's evidence to the Treasury Select Committee. As you may know, he is one of the candidates to be next governor of the Bank of England. So there is a question whether Mr Tucker's patrician manner is the solidity we need in these anxious times or whether a bit more of the popular touch is required.
As to the substance of his testimony, he was unambiguous that he did not ask or instruct Barclays to rig the important Libor rates.
His version, perhaps not as pellucidly presented as would have been ideal, was that he was telling Bob Diamond in their now notorious conversation at the end of October 2008, that Barclays at the time was too conspicuous and noisy in the way it was paying a higher interest rate to borrow than other banks.
He was warning Mr Diamond that if Barclays' money-market and treasury dealing desks did not show a bit more discretion in how they borrowed and how much they were prepared to pay to borrow, they risked spooking investors to such an extent that they might find the market became closed to it.
In other words, he was telling Mr Diamond to get a grip on the banks' dealing desks, to prevent Barclays becoming the third big bank of the time to be semi-nationalised.
That is Mr Tucker's version. Now the odd thing is why Mr Diamond did not communicate this message to his deputy, Jerry del Missier, who believed Mr Tucker had given the green light to fiddle the Libor rate.
Quite how this confusion arose never really became clear in Mr Diamond's testimony to MPs last week.
There was one other thing that Mr Tucker was adamant about, which was that he received no request from any civil servant or minister in the last Labour government to put pressure on Barclays to manipulate its submissions to the Libor rate-setting committee.
Which may not endear him to the Chancellor, George Osborne, who has been saying that there are questions for former Labour ministers - and especially the shadow chancellor, Ed Balls - to answer about all of this.
So, as I say, whether Mr Tucker's forthright defence of his innocence enhances his prospects of succeeding Sir Mervyn King as governor - an appointment in the gift of the chancellor and prime minister - is moot.