Alcoa posts loss on low aluminium prices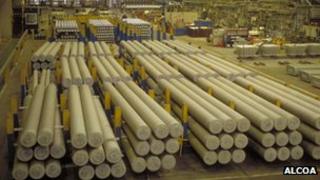 US aluminium giant Alcoa has posted a $2m (£1.3m) second-quarter loss after aluminium prices slumped to near two-year lows.
The loss compared with a $322m profit in the same period a year ago. Revenue fell 9% to $6bn as aluminium prices fell 18% from last year, Alcoa said.
But the results were still better than analysts had expected, and the firm's shares rose 2% in after-hours trading.
The aluminium industry has had to contend with a slowing global economy.
As some European countries have slid back into recession and as economic growth slows in the US and China, some have raised concerns about demand.
But Alcoa reaffirmed its forecast that global aluminium demand would grow 7% in 2012, on top of the 10% growth seen in 2011.
"Although aluminium prices are down, the fundamentals of the aluminium market remain sound with strong demand and tight supply, and Alcoa is successfully capitalising on accelerating demand in high-growth end markets such as aerospace and automotive," said Klaus Kleinfeld, chairman and chief executive.
Alcoa is the first member of the Dow Jones Industrial Average to report quarterly earnings.
Its performance reflects broader economic trends as aluminium is used in a wide variety of products from cars to drinks cans.