Hawker Beechcraft in sale talks with Chinese firm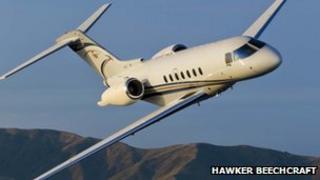 A Chinese aerospace firm is in exclusive talks to buy bankrupt US aircraft maker Hawker Beechcraft.
Superior Aviation Beijing has offered $1.8bn (£1.2bn) to buy the company and to fund its operations for the next six weeks.
However, the deal is not final and is subject to a legal and regulatory review in both the US and China.
If completed, the deal would exclude Hawker Beechcraft's defence unit due to concerns about national security risks.
Hawker Beechcraft, which filed for Chapter 11 bankruptcy in May, is still subject to an auction process and may receive more bids for its assets.
The US private jet-maker is owned by Goldman Sach's private equity arm and Onex Corp.
Potential backlash
According to their agreement, Superior Aviation Beijing will have exclusive negotiating rights for 45 days to buy Hawker Beechcraft's corporate jet and propeller plane operations.
If Hawker Beechcraft's defence unit is sold separately, up to $400mn of the $1.8bn purchase price will be refunded.
However, Leithen Francis from Aviation Week told the BBC he thought it was unlikely that the deal would be successful.
''Politically, it's going to be very difficult to get through because there will be a backlash and questions over why the US is allowing China to buy this company,'' Mr Francis said.
''Even though it's buying civilian aircraft assets, there is still technology that will prove useful to the Chinese... and could be applied to defence products.''
China access
The deal may also be scuttled if a higher bid comes through.
According to reports, Brazil's Embraer and Cessna aircraft-maker Textron and India's Mahindra & Mahindra have all expressed interest in the debt-laden company.
Superior Aviation, which has ownership ties to the Beijing municipal government, has the advantage of offering access to the fast growing Chinese market, which is the world's second-biggest private jet market after the US.
Private jet manufacturers such as Hawker Beechcraft have struggled with slowing demand following the 2008 financial crisis and a merger could give it a new source of growth.
Hawker Beechcraft chief executive Robert Miller said in a statement that, "this combination would give Hawker Beechcraft greater access to the Chinese business and general aviation marketplace, which is forecast to grow more than 10 percent a year for the next 10-15 years".