UK trade deficit narrowed to £2.7bn in May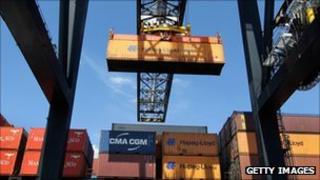 The UK's trade gap narrowed in May, helped by a boost in exports.
The trade deficit - a measure of how much imports exceed exports - fell to £2.7bn, compared with £4.1bn in April, according to figures from the Office for National Statistics .
The seasonally adjusted volume of exports was 6.6% higher, while imports rose 1%.
The goods deficit was £8.4bn, compared to £9.7bn in April, while services showed an unchanged surplus of £5.6bn.
David Kern, chief economist at the British Chambers of Commerce, said: "Unusually, UK exports to non-EU countries were higher than exports to the EU.
"This shows that exporters are adjusting to global reality, as growth in the eurozone will continue to stagnate, and the main opportunities for our exporters will remain outside Europe."
British exporters have "huge untapped potential," he said, but needed more help from the government.
Jubilee boost
Other data showed that manufacturing output unexpectedly rose by 1.2% in May, thanks to an extra working day as a result of a postponed bank holiday.
Analysts had expected no growth.
The Diamond Jubilee and warm weather also helped boost the food and drink sectors, which enjoyed a 2.2% increase in May, compared to April.
Commenting on the figures, Howard Archer, economist at IHS Global Insight, said: "A double dose of good news on the UK economy with industrial production unexpectedly rising in May and the trade deficit narrowing more than expected.
"However, the news is not quite as good as first appears, and there will be payback in June on the industrial production front."
Overall, the economic big picture remains gloomy for Britain, with the seasonally adjusted index of manufacturing falling 1.7% in May compared to the same month last year.
The worst-performing sector was pharmaceutical products and preparations, which fell 13.2%, followed by food, drink and tobacco, down 3.9% year-on-year.
At least the transport equipment sector bucked the trend, with an 8.8% increase in manufacturing output.
Philip Shaw, analyst at Investec, said: "Next June's figures look set to be fairly ugly, because you've got two additional bank holidays and you haven't got the extra working day that you had in May."
Most analysts agree that the UK is still teetering on the edge of recession.