London 2012: UK firms 'must match the Australians'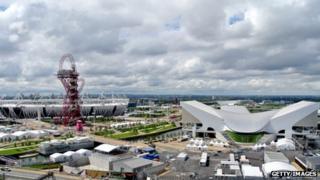 The UK has to emulate Australia when it comes to winning sports-related business contracts, says the man behind the London 2012 Olympic Games infrastructure programme.
Sir John Armitt has overseen thousands of Games-related contracts, worth billions of pounds, since he took the helm at the Olympic Delivery Authority (ODA) five years ago.
During that time, the ODA has overseen the delivery of everything from the building of sporting arenas and other infrastructure to the ordering of plastic cups and fire shutters.
Now, as the preparations for the Olympics enter their final lap, Sir John is looking to ensure the event acts as a catalyst for companies to win similar sports-related contracts in future.
'Longer-lasting benefits'
"The UK and its firms has a couple of years to really capitalise on the expertise and experience gained from being involved in this summer's Games," Sir John told the BBC News website.
"But there are longer-lasting benefits - you can still see how Australian firms are winning sports-related contracts because the 2000 Olympic Games in Sydney was seen as a good one.
"Clearly the opportunities now exist for us, but we need to match the Australians and make sure they don't dominate."
Sir John is now heading up the British Business Club, a new sports business networking organisation backed by UK Trade & Investment (UKTI).
It will be active for the duration of the Olympic and Paralympic Games and beyond, and is also open to overseas firms as well as UK ones.
"It is a powerful business networking tool for both British and international firms," says Sir John.
"By allowing companies to build their networks and connect with business partners worldwide, it will increase their opportunities to meet and engage with potential partners during the London 2012 Games."
Rio contact
Sir John said UK firms were particularly well placed to win sports contracts in the Middle East, India and South East Asia.
But he said challenges still remained in Africa and South America, although London 2012 had been building good contacts with the organisers of the 2016 Rio Games.
"There have been a lot of meetings and conversations, and UK firms are doing a lot of the Rio masterplanning," he said.
"Having done something successful here should provide extra leverage for UK firms."
According to Sir John, some 98% of the facilities for the Olympics have been built by UK firms. That is almost £6bn worth of business, or 1,500 contracts, awarded by the ODA to home-based companies.
In total, more than 75,000 firms are expected to have win work related to London 2012.
Now they will be looking to win similar work in the coming decade.
As well as the Commonwealth Games in Glasgow and Winter Olympics in Sochi, both in 2014, there are a number of other big events looming on the global sporting calendar.
They include a number of UK-based events, including the Rugby League World Cup in 2013, Rugby Union World Cup in 2015, the Ryder Cup in 2014 and the Cricket World Cup.
Major overseas events include the 2014 World Cup and 2016 Olympic Games in Brazil, as well as the 2018 Winter Olympics in Pyeongchang.
"British companies now have precious experience that they can use to win business at home and abroad," added Sir John.
"They are already doing so in Sochi and Brazil. Further ahead, there are fresh opportunities in Korea and Qatar," he says, referring to the latter's seemingly insatiable appetite for hosting major sporting events.
Joining UKTI in launching the initiative are London & Partners, London Business Network and the Department for Business, Innovation and Skills.
It is hoped the venture will be particularly useful for small and medium-sized enterprises.
Club members can network free of charge with thousands of other businesses "to showcase their expertise and know-how" by creating an online profile.
The website will also provide access to one-to-one meetings, networking events across the UK and free temporary membership of the Institute of Directors in London for the duration of the Games.
Mr Armitt hit the headlines recently when he called for "urgent action to ensure that marketing restrictions applying to London 2012 suppliers are relaxed as soon as possible" after the Games.
He made the point after small and medium-sized firms said they were not allowed to publicise their success, because the event's organisers (Locog) feared it could upset the big-name official sponsors.
"We are seeking post-Games relief for firms from these constraints and are in discussions to see that can be done after the Olympics," said Sir John.
'Feel-good'
There has been a glut of analysis from, among others, Lloyds, Goldman Sachs and the government, all trying to size up the exact economic benefit that the UK can expect from holding the games.
Last week, Prime Minister David Cameron said hosting the Games would be worth £13bn to the UK economy over the next four years.
"The 'value' can only be the one that makes people feel good - the Olympic Games will help the feel-good factor," says Sir John.
"But if you are a government that has just spent £9bn on the games, it is unacceptable to spend £9bn on just a six-week party.
"Of course, there are social and sporting legacy benefits from the Games - but you want to feel sure there is a business benefit.
"But you will never know the scale of those business benefits."
He said no-one could predict if the global economic situation would change dramatically over the next four or five years.
"It will be a brave man that says 15% of economic growth was because of this factor, and 20% because of this factor.
"The main question is - have we, because of the Games, increased GDP, got people into work and put the UK economy in a better position?
"Intuitively I know these things are going to happen. For me, that is enough. I am not myself concerned about trying to find out whatever percentage was created by the Games."