Takeover spree sweeps aerospace and defence sector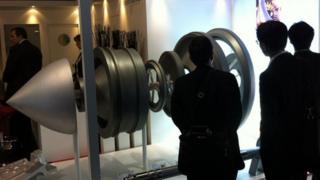 Specialist rivets, electromechanical actuators, hydraulic manifolds and snake-arm robots that have been designed to be used in confined spaces.
The aerospace and defence industry is, perhaps more than any other industry, truly a sum of its parts.
Indeed, even the thousands of individual components that make up a fighter jet engine, an unmanned aerial vehicle or an aeroplane wing are so complex that they too are sums of their parts.
Dice it and slice it enough times and you will eventually find that there are thousands and thousands of parts suppliers.
Each and every one of them is contributing to the manufacture of the metal that is displayed in aerial acrobatics, or to the planes or engines or missiles sold in the many multi-billion dollar deals announced this week.
"It is like a pyramid," says a US investment banker at the Farnborough airshow.
Mergers and acquisitions
The pyramid's pinnacle is made up of big players, such as aeroplane makers Airbus and Boeing, engine makers such as GE and Rolls-Royce and defence firms including Raytheon and Northrop Grumman, to name but a few.
Each of them have trading relationships with a vast number of so-called tier two and tier three suppliers, who in turn rely both on the big players and on each other.
Most of them are here this week, milling around in a vast exhibition hall, establishing contacts, pushing their wares.
But the deal making here is not limited to hardware.
Farnborough, according to the investment banker, is also where company mergers and acquisition deals are "seeded and percolated".
Central to success
In the commercial aviation market, most deals tend to involve a tier two supplier, such as a company making the landing gear for an aeroplane, buying a tier three supplier, for instance one that makes smaller components such as nuts and bolts, or springs and levers.
The deals tend to be larger than $200m (£130m), but smaller than $500m (£320m). They are often paid for in cash. And they generally fail to register with media outlets that have bigger fish to fry.
But the vast majority of the people who work in aerospace and defence are employed by small and medium-sized enterprises (SMEs).
Besides, for every job created in the sector, it is widely accepted that some two or three jobs will come about elsewhere in the economy.
Hence, mergers and acquisitions involving SMEs will often have tremendous impact on thousands of people, as well as on entire economies.
SMEs are central to any nation's success in this industry, according to Marcus Bryson, chief executive of GKN Aerospace, a first tier supplier that manufactures highly complex composite and metallic aero structures.
This is true in many countries, not least to the UK, which is Europe's number one and the world's number two in terms of aerospace and defence output.
As such, Mr Bryson insists, they should be supported.
"The large players in the UK aerospace industry need to have longer, deeper relationships with the SMEs in the supply chain," he says.
"We need to equip them with the skills and the knowledge to compete, not just in the UK but worldwide. That is the only way the UK is going to maintain what it's got and grow in the years ahead."
Fewer suppliers
In addition to being qualified, suppliers must also be sufficiently large and capable to respond to the big players' requirements.
This is increasingly so, with Airbus and Boeing both eager to reduce the complexity of their operations.
Having suffered delays to major programmes, such as the Airbus A380 and the Boeing 737, as a result of difficulties in dealing with suppliers, both are eager to deal with fewer suppliers of everything from seats and curtains, to in-flight entertainment equipment and avionics.
"You can't have a $5 part holding up a $40m aeroplane," the investment banker says, "but that's what's happening at the moment."
'Tale of two cities'
Military equipment makers are no different, in that they too are eager to adjust to a new reality.
"Defence is waiting for significant, sustained and massive cuts by the world's biggest buyer of defence products," says David Baxt, head of aerospace and defence at investment bank Jefferies.
"The second and third tiers will clearly need to consolidate to participate more deeply in the industry."
The problem, at least for the moment, is that as yet nobody knows how big the cuts in US defence spending will be. Estimates range from about $500bn to $1 trillion.
But this is "a tale of two cities", according to one industry official at the show, who points to a clear trend in defence spending.
Companies that make low-end consumables, such as flack jackets or boil-in-the-bag meals, should expect their business to shrink as military efforts shift away from a reliance on troops, while those that make high-end products such as reconnaissance and intelligence surveillance equipment for unmanned aerial vehicles, or mission and cyber security software, should prove more resilient.
"The ability to see what's going on is seen as essential to defence capabilities," observes Tom Captain, head of aerospace and defence with the consultancy Deloitte.
Other winners should include companies that merge with or acquire rivals in markets where they do not have a presence; strategic cross-Atlantic deals for instance that give US suppliers access to major European manufacturers, or vice versa.
It is equally clear who the losers are likely to be, namely anyone who stands still, refusing to get involved.
"This," says Mr Captain, "is the year of mergers and acquisitions."