Libor scandal: Bob Diamond 'dismayed' by MPs' claims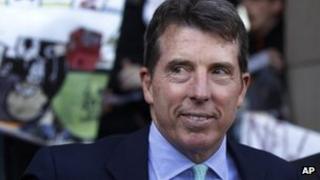 Former Barclays chief executive Bob Diamond has said he is "dismayed" by MPs' views that he was "less than candid" when he appeared before the Treasury Select Committee last week.
In a letter to committee chairman Andrew Tyrie, Mr Diamond said such a suggestion was "unfair and unfounded".
He was referring to comments earlier on Tuesday, when Barclays chairman Marcus Agius appeared before the committee.
MPs suggested there were discrepancies between what the two men had told them.
Mr Agius was asked if he had passed on the Financial Services Authority's "issues" with Mr Diamond when he was appointed as chief executive. Mr Agius said that he had.
When Mr Diamond appeared before the committee last week, he said he had not.
But in his letter Mr Diamond said Mr Agius was asked about correspondence which took place in April 2012, whereas Mr Diamond had been asked about the period of his promotion to chief executive in September 2010 and a board meeting that he attended in February 2012.
'Unfair impact'
Mr Diamond resigned last Tuesday in the wake of the Libor rate-rigging scandal, and faced MPs the next day.
It has been reported that he may be summoned before the committee again.
In his letter, Mr Diamond said the comments at Mr Agius's hearing had had "a terribly unfair impact" on his reputation.
"I look forward to discussing this issue with you further if you wish to do so," he said.
Barclays was fined £290m after admitting to making false Libor submissions. Libor is the rate at which banks lend to one another and is the basis for millions of daily financial transactions
Payout revealed
Earlier, Mr Agius told the committee that Mr Diamond would receive his salary and benefits worth in excess of £2m, but had voluntarily given up bonuses worth up to £20m following his resignation.
Mr Diamond's salary was £1.35m, and he had a six-month notice period in his contract.
Mr Agius also resigned but agreed to stay on to find Mr Diamond's successor.
Mr Agius, who is a senior non-executive director on the BBC executive board, said he "regretted deeply" what had happened and was "truly sorry".
He told the committee he had resigned because he felt "ultimately responsible for the reputation of the bank".
Mr Agius said he was summoned to a meeting with Bank of England governor Mervyn King on the evening of Monday 2 July, the day he resigned, where he was told in no uncertain terms that the regulators had lost confidence in Mr Diamond.
Mr Agius then visited Mr Diamond at his family home to relay this message. The next morning, Mr Diamond resigned.
The committee pressed Mr Agius on the Financial Services Authority's annual review of Barclays that said the bank was aggressive in its practices and misleading on bank stress tests.
They also quoted a letter from FSA chief Lord Turner saying the bank had left an impression with the regulator that "Barclays has a tendency continually to seek advantage from complex structures or favourable regulatory interpretations".