Weather-hit events and your rights to refunds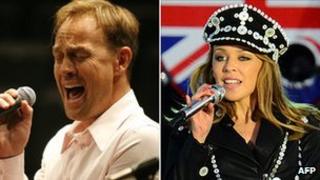 Rain clouds have cast a shadow over some of the UK's major gigs, shows and sporting contests this summer.
A number of events have been cancelled owing to flood conditions and safety fears for visitors.
Among them was a concert that would have seen Jason Donovan and Kylie Minogue reunited on stage for the first time in more than 20 years.
County shows have been curtailed and charity events cancelled, leaving many people out of pocket.
Those people affected do have certain rights, but not every cost will be covered.
Do I get a ticket refund if an event is cancelled owing to the weather?
The vast majority of major events have insurance to cover the cost of cancellation - and that means they can offer full refunds to those who bought tickets.
Generally, this will be done automatically, although some will explain the way to claim on their websites or through emails.
Some sporting events might only offer a partial refund, or none at all, if some play was possible before a match was abandoned.
Does this refund include the booking fee?
That depends on the terms and conditions of each event, explains Sue Russell, of Citizens Advice. The small print will give details of the refund package.
However, guidance from the Office of Fair Trading suggests that the consumer should always be refunded a booking fee.
The question for the suppliers would be who picks up that extra bill - the event organisers or the ticket agent.
It may end up that a claim needs to be made to the agent. Some are members of a trade association such as the Society of Agents and Retailers. It has a code of practice which ensures agents have a complaints-handling procedure.
How else can I make a claim?
There is no ombudsman as such for these industries, so there is not the benefit of an independent adjudicator.
Citizens Advice has an advice line which offers guidance to those who are struggling to get their money back. It has received 150 complaints about refunds associated with ticket sales between 2 April and 10 July, but staff are braced for more.
Claims can also be made to a credit card provider, if the ticket was bought using a credit card and cost more than £100.
In addition, some packaged bank accounts might include insurance against some of these losses.
Will they also pay my additional costs, such as travel and accommodation?
Probably not, and this is where some people may be hit in the pocket the most by a cancellation.
An event organiser is not liable for the cost of a hotel room or a rail journey to get to an event - mainly because the night's stay or journey is still available, if the show goes on or not.
If you know in advance that an event will be cancelled, then a travel company or hotel might allow you to change the date on a booking, or only levy a small cancellation charge. Travel insurance policies may include some cover for the cost.
The law is far from clear-cut regarding any additional rights if a booking is made online. Citizens Advice say it is always important to read the small print, even if that is not something busy consumers are often prepared to do.
Of course, it is important to ensure that the tickets are not being bought from an illegal website.
If it stays wet, what are the refund rules for the Olympics?
Most events at London 2012 will go ahead as normal even if it pours down.
However, some might be affected at times of particularly bad weather.
The terms and conditions on the London 2012 website are very clear.
Generally, there are no refunds available if a session is delayed during the day, or is "substantially completed" when the interruption occurs.
If a session is cancelled, then the person who bought the tickets will need to apply for a refund by sending back the tickets, together with a signed refund application form by the end of October.
However, this will only lead to a refund of the face value of the ticket, not the additional charges that had already been paid.
"There will be no exchanges of tickets to another session or refund of any applicable delivery charges, booking fees or other charges," the terms and conditions say.