Home sellers drop asking prices in July, says Rightmove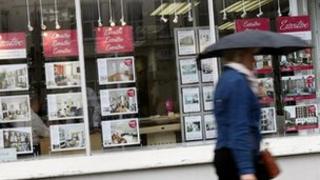 The average asking price for homes being put up for sale fell this month for the first time since January, says the property website Rightmove.
Average prices fell 1.7%, or £4,138, the first drop in July since 2008
Rightmove said that the number of would-be sellers this month outnumbered successful buyers by two to one.
It warned that people hoping to sell their homes would have to cut their asking prices further if they wanted to be successful.
Rightmove partly blamed the wet weather and the "distraction" of the Olympics for putting off potential buyers from viewing homes that are up for sale.
Miles Shipside, director of Rightmove, said the level of unsold stock remained "stubbornly high" at 75 homes per estate agency branch.
"The fact that we have not seen major price falls in the UK and that many areas are not awash with 'For Sale' boards may lead some sellers to be over-optimistic with their pricing."
"New seller numbers may be down some 30% on the period prior to credit-crunch, but the numbers achieving a successful sale are down by half and average unsold stock levels are creeping up.
"Sellers need to adjust, as this new world is the new norm," he added.
Comparisons with actual selling prices reveal just how much sellers are overestimating the likely sale value of their homes.
The current average asking price of a newly marketed property is now £242,100, according to Rightmove.
In contrast, the average selling price in England and Wales was just £161,700 in May, according to Land Registry figures.
Rightmove displays details of more than 100,000 newly marketed properties each month, which it says is about 90% of all the homes that are put up for sale.