Thomas and Raymond Kwok charged in corruption scandal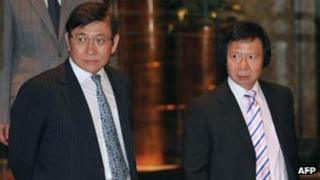 Two billionaire property developers in Hong Kong have been charged with bribery-related offences in a high-profile corruption case.
Authorities allege Thomas and Raymond Kwok gave bribes in exchange for information on land sales between 2005 and 2007.
Rafael Hui, formerly Hong Kong's second highest ranking government official, has also been charged.
The Kwoks head Sun Hung Kai Properties, Asia's most valuable real estate firm.
The brothers have denied the allegations.
Their net worth is in the tens of billions of dollars, reports the BBC's Juliana Liu in Hong Kong. Their firm is behind two of the tallest buildings in Hong Kong, a place known for its towering skyscrapers.
The brothers appeared before the city's Independent Commission Against Corruption (ICAC) earlier on Friday.
'Light will shine'
"I believe I have not done anything wrong and that the Hong Kong judiciary system is fair. I will fight the accusations and I hope it will prove my innocence," said Raymond Kwok outside the court, according to the AFP news agency.
He said he had turned to yoga to deal with the situation. "I want to encourage people to learn yoga because it can help you to relax and it has helped me to face the challenge in these few months," he added.
Meanwhile, his brother Thomas said he would rely on his Christian faith to fight the case, quoting from the Bible the phrase: "Light will shine in the darkness."
Mr Hui, the Kwok brothers and two other businessmen face eight charges including conspiracy to offer advantages to a public servant and misconduct in public office.
The above offences allegedly took place between June 2000 and January 2009, said an ICAC statement .
All five men were charged with the offences related to payments and unsecured loans amounting to HK$34m ($4.38m, £2.84m).
The brothers were taken into custody in March, but are free on bail.
Trading in shares of Sun Hung Kai was suspended shortly after the markets opened in Hong Kong.
The pair's prosecution set in train the highest-profile corruption case the city has ever seen, at a time of widespread anger about perceived collusion between the government and property tycoons, says our correspondent.
Scandal in the city
The scandal risks tarnishing Hong Kong's reputation as one of the least corrupt places in the world, according to Transparency International .
The charge came just a day after Hong Kong's development secretary was arrested, along with three others, on corruption charges following allegations they abused government housing allowances.
Mak Chai-kwong has since stepped down, dealing a fresh blow to the government of Leung Chun-ying, the city's new leader.
Mr Leung himself is embroiled in a scandal over six illegal structures at his $64m luxury residence in the exclusive Peak district.
He was chosen as Hong Kong's new leader by a committee of 1,200 business leaders and other influential citizens mostly loyal to Beijing after an unusually turbulent campaign in March.
The Chinese government switched its support to him after a string of scandals hit early front-runner Henry Tang, who was also said to have had an illegal basement at his home.
But last week, a group of lawmakers filed a judicial review, asking a judge to overturn the election result, as well as an election petition.