OFT: Banks in current account check-up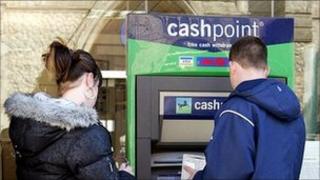 The UK's banks will undergo a check-up on the way they run current accounts for their personal customers.
The Office of Fair Trading (OFT) said it will see what progress the banks had made since its review in 2008.
It will look at whether or not banks have made it easier for people to switch accounts and to understand their overdraft charges.
If not enough progress has been made, the banking industry could be examined by the Competition Commission.
The announcement of the OFT review comes at a time when the public reputation of the UK's banks could hardly be lower.
Banks are in the process of paying up to £9bn in compensation for mis-selling millions of customers payment protection insurance.
Millions of account holders at the RBS banking group, including NatWest and Ulster Bank, have endured severe disruption in the past few weeks because of a computer failure.
The banking industry is also enmeshed in a growing scandal over the rigging of the Libor interbank lending rate, involving Barclays in the first instance, but probably many other banks as well.
Claire Hart of the OFT said: "We committed to keeping the personal current account market under scrutiny following our 2008 study."
"Through this review, we want to understand what progress banks have made in providing customers with better information about account charges, greater control over their accounts and easier account switching facilities.
'More generally, we are concerned that a lack of effective competition means the retail banking sector is not working in the interest of customers and businesses," she added.
Radical reforms
Back in 2009, the banking industry defeated a legal attempt by the OFT to regulate bank overdraft fees.
Since then, these fees have been made clearer to customers, though not necessarily cheaper.
Last September, the Independent Commission on Banking, led by Sir John Vickers, outlined a series of radical reforms for the industry.
He recommended that new banks should be encouraged, to bring more competition to High Street banking.
He also called for the establishment of a new, industry-wide, current account redirection service that would be free to customers.
The banking industry swiftly followed, giving commitments to establishing such a service, as well as alerting customers when they come close to their account limits, and giving them advance warning of overdraft fees.
The industry also committed to giving customers individual statements showing how much has gone in and out of their accounts each year.
Despite this, in February, the then head of the OFT, John Fingleton, said the banks had been dragging their feet over improving their services and warned them that they faced an enforced shake-up.