Kingfisher Airline says flights to run after disruption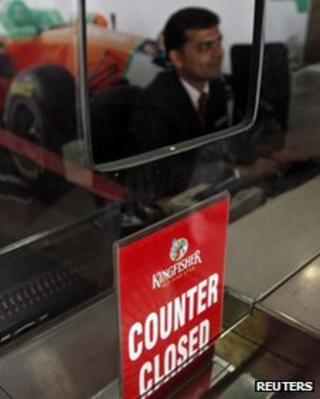 India's Kingfisher Airlines said all its flights would operate as scheduled, after about 40 flights were cancelled because of work stoppages.
Some workers stayed home on Saturday saying their salaries had not been paid.
Owner Vijay Mallya has been trying to revive the cash-strapped airline which has had to cut capacity.
The airline has seen its share of the market decline after it was forced to ground most of its fleet.
Kingfisher has never made a profit since it was launched in 2005.
The cancellation of flights on Saturday prompted Mr Mallya to warn that the airline's fortunes may not improve in the near future.
"Damaging the future of Kingfisher in the public eyes is not going to produce cash," Mr Mallya said in an open letter to employees seen by the Press Trust of India.
"This only makes my recapitalisation efforts more difficult by causing concern and apprehension among our potential investors."
Kingfisher saw its share of the Indian market fall to the lowest of any airline in April. It held the second-biggest market share in October last year.
The airline has had to cut the number of its flights to about 120 a day, down from about 340 daily flights.
Kingfisher said in a statement that 75% of employees has been paid salaries as promised on 13 July. It added that the remaining members of staff would be paid by 16 July.