ZTE shares fall 17% to three-year low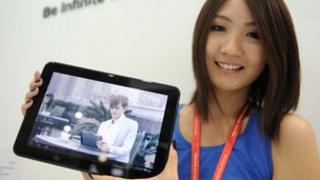 Shares in ZTE, China's second-biggest telecoms equipment maker, have fallen by 17% after it warned half-year profits could drop by up to 80%.
Shares in the company are now at their lowest level in three years.
It came as reports alleged ZTE was being investigated by the FBI in connection with the sale of banned equipment to Iran.
Chinese telecommunications companies have seen demand fall globally for networking equipment.
Declining profits
In an announcement made on 13 July, ZTE said net income for the first half of the year was expected to be between 154m yuan ($24m; £15.5m) and 308m yuan. That is down from 769.3m yuan a year earlier.
ZTE said the reason was reduced investment income, losses from foreign exchange and a drop in domestic revenue.
Meanwhile, documents obtained by the Smoking Gun website last week claim the FBI is looking into the alleged sale by ZTE to Iran of a US-made surveillance systems capable of monitoring mobile, internet and landline communications.
The US has prohibited any trade of non-humanitarian goods with Iran.
ZTE's shared plunged to 10.32 Hong Kong dollars on Monday, the lowest level since 2009.
International controversy
ZTE and its biggest Chinese rival Huawei have been looking to the US and global markets to grow their businesses.
However, both have come under scrutiny overseas in recent months because of possible connections to the central government.
The European Union is looking into allegations that Beijing gave the two companies subsidies providing a competitive advantage over Western telecommunications rivals.
The companies have denied the claims.