Indian inflation slows in June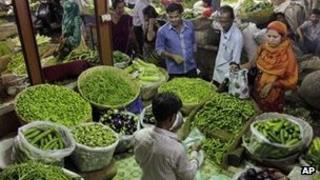 India's wholesale prices rose by a slower-than-expected 7.25% in June, according to official government data.
The measure, India's main index of inflation, fell from 7.55% in May despite higher food prices.
Food inflation remains stubbornly high, accelerating slightly to 10.81% compared with 10.74% in April.
However, fuel prices rose at the slower rate of 10.27% in June, down from 11.53% in May due to the fall in world oil prices.
Rate cut?
India's economy has slowed sharply in recent months. Economic growth, as measured by Gross Domestic Product, fell to a nine-year low of 5.3% in the three months to March.
That has prompted calls for the Reserve Bank of India (RBI) to reduce the cost of borrowing for firms and households to free up money for spending and investment.
In April, the RBI cut its key interest rate by 0.5% to 8%, but warned that any further reductions in the cost of borrowing would depend on the inflation rate as measured by the Wholesale Price Index.
Analysts were split over whether the latest inflation figures suggested further rate cuts were on the cards.
"The unexpected slowdown of inflation is fantastic news, despite the still elevated level: it opens the door for a rate cut already in July, and we expect a 25 basis points move at the RBI meeting at the end of the month," said Darius Kowalczyk, an economist at Credit Agricole CIB.
But, Sujan Hazra, chief economist at Anand Rathi Securities, disagreed. "Despite the unexpectedly low number, the headline inflation is way above the Reserve Bank of India's comfort zone. Hence, the case for easing of monetary policy is not there."
The RBI will announce its latest interest rate decision at the end of this month.