US retail sales down in June for third straight month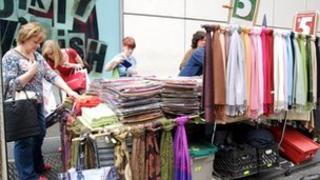 US consumers cut back on retail spending in June, official figures have shown, the third month in a row that sales have fallen.
Retail sales fell 0.5% last month from May, according to the Commerce Department.
Spending on key goods, including cars, electronics products, building and gardening materials, all fell.
The data has raised fresh worries over a sustained recovery, as consumption is a main pillar for growth.
Household spending represents about two-thirds of gross domestic product (GDP) in the US.
It was the first time that sales have fallen for three months in a row since late 2008, when the economy was in the midst of a recession. Analysts had expected June's figure to show an increase.
"Evidence is increasingly clear that the US economy is slowing," said Jim Baird, an investment strategist at Plante Moran Financial Advisors.
Sales of cars and car parts fell 0.6% while the figure was worse for furniture and building materials, underlining the persistently sluggish housing market.
Receipts at petrol stations fell 1.8%, while spending on health products also dropped 0.7%. Food and beverage spending was nearly flat.
Mounting pressure
The data add to a recent string of gloomy economic news, creating headwinds for President Barack Obama, who is running for a second term this year.
Three years after pledging an economic recovery, growth has been weak.
The unemployment rate has been stuck at 8.2%, and manufacturing activity unexpectedly shrank in June.
The Institute for Supply Management earlier this month said its purchasing managers' index, which measures manufacturing demand, fell to 49.7 last month. Any figure below 50 indicates a contraction.
And June sales figures released by the country's biggest retail operators - Costco Wholesale, Target, and Macy's - all fell below expectations.
Investors say the soft data may add pressure on the US Federal Reserve to unveil new measures to boost the economy.
The International Monetary Fund slightly revised downwards its US growth forecast for this year and next, from its April estimate.
It now expects GDP to grow by 2% in 2012 and 2.3% in 2013.